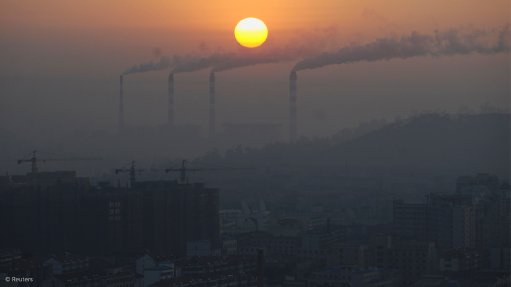 Photo by: Reuters
PERTH (miningweekly.com) – The Northern Territory government has joined forces with the Commonwealth Scientific and Industrial Research Organisation (CSIRO) and a number of oil and gas companies to develop a path towards rapid emissions reduction across the energy sector in Northern Australia.
The partnership will assess the viability of a large-scale low emissions carbon capture, utilisation and storage (CCUS) hub based at Middle Arm. The hub would be one of the largest multi-user, multi-access hubs globally.
The hub would ensure the territory continues to maximise its world class energy resources, whilst preparing for economic growth, job creation, and meeting strong international market demand for low emissions energy.
The hub would enable the development of an interconnected hydrogen industry and the use of the carbon captured in other industrial processes, such as production of other non-fossil fuel alternatives for transportation.
The business case will also outline how to significantly reduce the emissions of the territory's gas industry providing a tangible pathway towards the net zero emissions targets set by the territory government and industry proponents.
"The Northern Territory is a natural fit for this investment. We are home to world-class natural gas and solar resources and subsurface carbon dioxide storage capacity, and we are on the doorstep of key international energy export markets," said Chief Minister Michael Gunner.
"We are always looking ahead to future investment and job creating opportunities. We will ensure the Comeback Capital is on the front foot when it comes to low emissions economic growth and expanding industry in a net zero emissions world."
With expertise in hydrogen and CCUS, CSIRO will provide impartial scientific advice, coordinate the development of detailed concept designs, build international linkages, and conduct geological research and economic and customer studies.
CSIRO CEO Dr Larry Marshall said CSIRO's expertise across the energy domain, along with its deep connection with industry, meant it was well placed to lead the work.
"As Australia's national science agency, CSIRO is always looking for ways to bring business and government together to envision and deliver a more sustainable future for some of our largest industries," Marshall said.
"The Northern Territory Hub could create new jobs and export pathways, and give Australia a global advantage by pushing the boundaries of science and technology to put home-grown innovation into real world demonstration projects, including through our Hydrogen Industry mission."
Industry and engineering companies who have committed to collaborating on the business case include Santos, INPEX, Woodside, Eni, Origin Energy and Xodus.
The Australian Petroleum Production and Exploration Association (Appea) said the hub could be a game-changer for the region, if realised, and could create a blueprint for future low emission hubs around Australia.
"Australia needs low-cost emissions reduction projects and technologies to enhance its position as a leading energy exporter and ensure international competitiveness in a cleaner energy future," said Appea Northern Territory director Cassy Schmidt.
"CCUS has the potential to deliver step-change emissions reduction and is an important way to not only reduce emissions but create thousands of jobs in the process. Australia has a natural competitive advantage to implement CCUS with known high quality, stable geological storage basins, existing infrastructure, world-class technical expertise and regulatory regimes.
"With scale and experience, the cost of CCUS will decrease, creating the potential to deliver competitive, large-scale abatement for existing industries and new industries such as hydrogen and ammonia.
"Hydrogen combined with CCS is an immense opportunity for Australia to fast-track its transition to a lower emissions economy.  Natural gas is the pathway to developing a home-grown hydrogen industry," she added.
The hub would also be key in establishing the Territory's Middle Arm Sustainable Development Precinct, which will be a globally competitive precinct for low emission petrochemicals, renewable hydrogen and minerals processing.