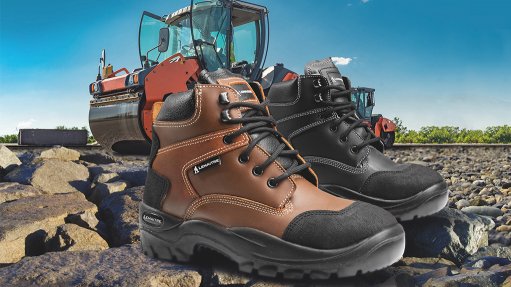 MADE FOR WORKERS, BY WORKERS Lemaitre's Raptor range is synonymous with torsion control and keeping workers sure-footed in environments where uneven terrain is prevalent
Driven by "a commitment to high-quality products", local footwear provider Lemaitre states that it has always been a brand committed to keeping those who build South Africa safe, noting that, for 30 years, the company "has helped build a nation".
The company announced in December the addition of new styles to its range of safety shoes, designed to offer more support, comfort and performance.
Lemaitre's Raptor range is "synonymous with torsion control and keeping workers sure-footed in environments where uneven terrain is prevalent". The company has expanded its offering in this range with the Osprey Hiker and the Falcon shoe and boot.
The Osprey Hiker has a genuine leather upper for enhanced comfort and durability. The Falcon is also made with a genuine leather upper, with thermoplastic polyurethane (TPU) inserts in the arch of the foot with enhanced ladder grip design. Their Dual Density polyurethane (PU) sole unit and TPU inserts allow for an aggressive grip and torsion control.
Lemaitre's Parabolic range comes with a durable PU midsole and is "perfect" for workers who need extra support when spending a lot of time on their feet. The Concorde shoe and boot are Lemaitre's latest offerings in this range, with an S3 rating, they provide comfort and alleviate fatigue. They also come standard with an anti-penetration midsole.
Lemaitre's iconic Maxeco range has built-in arch support and is designed for all-around safety. The redesigned Maximus boot provides all-around safety with the addition of a memory foam insole and reflective strip. It has a wider fit and improved ergonomics. The square cleat design of the shoe improves the slip resistance rating and provides better stability and reduced shock impact.
The Apollo range with slip resistant safety (SRC) rating offers maximum slip resistance. The two new styles added in this range are the Clog and the Ben.
While the Clog has been designed to provide superior slip resistance, the Ben incorporates the benefits of the Apollo sole as well as no metal or hard plastics on the upper, which minimises the risk of scratching metal and other surfaces.
New to Lemaitre is the Inyati range which offers high heat resistance, cut and abrasion resistance and SRC rated slip resistance and has an injected PU/rubber sole to provide all-round safety and protection in hazardous working environments.
As a proudly South African brand, "made for workers, by workers", the company understands what is needed to carry workers safely through tough industries and working environments.