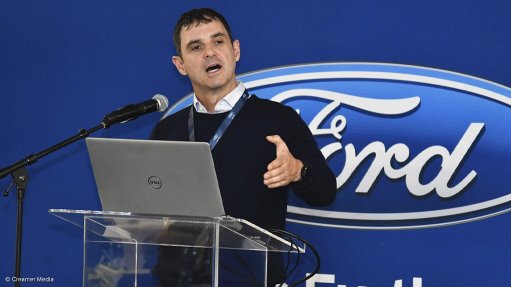 Absa research head and chief economist Jeff Gable
Photo by: Creamer Media's Dylan Slater
There is little doubt that the taxpayer will be left footing the bill for the problems experienced at power supplier Eskom, and probably so through higher electricity prices and increased taxes.
Over the last decade-plus, Eskom has seen generation capacity increase only slightly, with the amount of electricity sold declining and the parastatal's debt load going up by more than a factor of ten, said Absa research head and chief economist Jeff Gable at a Ford media breakfast in Pretoria on Wednesday.
"So where are prices going to go? They are not going up by CPI [consumer price index], right?
"Over the next one and two and three and four, and maybe five and six and seven years, Eskom is going to get some version of significant price increase and that is only going to be part of the solution.
"The other part is going to some version of higher taxes.
"It is not an easy environment for us in South Africa – not easy at all – but there is no point to pretend it's going to be anything else."
Gable said the presence of renewable energy sources, the restructuring of Eskom and the appointment of a new management team would still translate into "higher electricity prices and a significant burden on tax payers".
Gable indicated that Eskom's installed capacity expanded only marginally from 2007's 42 618 MW, to reach 45 561 MW in 2018.
Sales over the same period fell from 218 000 GWh in 2007, to 212 000 GWh in 2018.
Coal costs increased from R10-billion to R54-billlion.
Revenue jumped from R39-billion to R177-billion.
Debt, however, increased from R41-billion in 2007, to R389-billion in 2018.
It was a matter of life and death for the economy to fix Eskom, noted Gable.
"We can have a conversation about Denel. We can have a conversation about South African Airways, but we cannot have a conversation about Eskom. It has to be fixed."