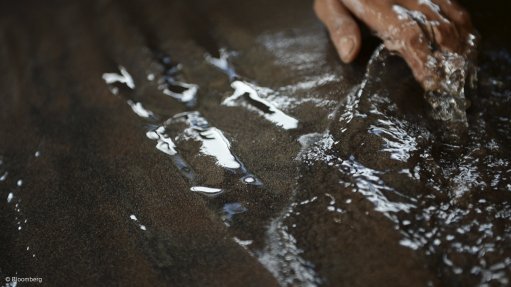 Tin ore
Photo by: Bloomberg
Market research firm Fitch Solutions says high prices and less interruption from Covid-19 are driving tin mine production growth this year.
This is a positive turn on the 1.3% year-on-year contraction in tin mine output recorded in 2020.
However, sporadic tightening of lockdown restrictions have constrained the recovery in output in Indonesia and Malaysia.
Indonesia is, nonetheless, poised to rapidly expand its tin mine output, alongside Peru and Bolivia.
The London Metal Exchange tin price reached a high of $30 000/t in July, compared with $15 000/t in March, which is helping to drive mine output recoveries.
The tin price subsequently averaged $34 865/t on August 10, according to Trading Economics.
Fitch Solutions explains that the global tin mining competitive landscape is sparsely populated when compared with many other metals. There is a relative lack of diversity among major producing countries, with tin mining in a given country often dominated by a single firm.
For example, in Indonesia, State miner PT Timah holds the biggest market share in tin concentrate production and has been able to further consolidate the industry in recent years through the use of new technology on its concessions.
In Peru, Minsur is the sole tin miner in the country, while State institution Comibol dominates output in Bolivia.
The lack of a diverse crop of producers can lead to weak project pipelines, as total investment in a sector is in part constrained by the number of players operating in that sector.
Fitch Solutions elaborates that, as a result of both factors, the sector has a fairly small pipeline of new projects. In the long term, declining ore grades and a lack of replacement projects will weigh on output growth.
The most significant factor slowing output growth will be more stringent environmental regulations in countries including China, Malaysia and Indonesia.
For example, the Perak state in Malaysia announced a moratorium on new exploration licences within the state in June 2019 owing to concerns over the treatment of its waterways, halting Australian junior Elemontos' Temengor tin project.
In Indonesia, protests by coastal communities threaten to disrupt PT Timah's expansion of offshore mining for tin in the country.
PRICE FACTORS
A favourable price outlook and concerns over tin concentrate supply lagging behind consumption demand will make projects more likely to receive management approval to move forward as the economics of the projects are more likely to be realised.
In particular, despite a weaker performance relative to the previous three years owing to declining ore grades, Fitch Solutions believes Myanmar is showing upside potential over the medium to long term.
The updated Myanmar Mining Law implemented in 2018 has sparked interest from foreign and domestic mining firms, increasing permit applications for new mining projects including tin.
As of May 2020, the government has received more than 3 000 mining permit applications since its implementation and is reportedly planning to approve about 160 medium- and large-scale applications, consisting of both domestic and foreign firms.
Fitch Solutions expects rising tin prices to lead to improving margins among domestic producers in Peru, Australia and Bolivia, which will prompt continued production growth in these countries.
"High prices present an upside risk to our current tin mine production forecasts for the coming decade. Our aggregated, country-by-country forecasts currently imply mine growth to remain weak compared with previous years.
"Global tin mine production grew at an annual average rate of 2% year-on-year over 2010 to 2020 and we forecast annual growth of 1.5% over 2021 to 2030. This would be significantly slower than annual average growth rates for other metals including copper (3.8%), nickel (4.5%), iron-ore (1.9%) and gold (3.2%)," the firm reports.
For this year, Fitch Solutions expects tin mine output globally to grow by 9.4% year-on-year, before slowing down to a growth rate of 0.1% next year.