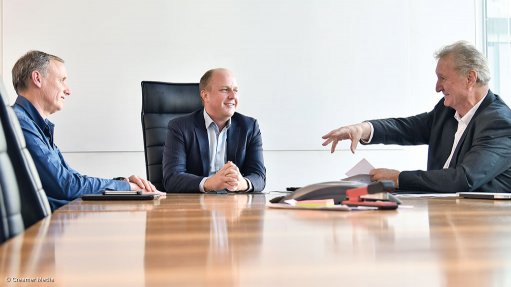 AfriTin nonexecutive director Terence Goodlace (left) and AfriTin CEO Anthony Viljoen (centre) being interviewed by Mining Weekly Online"s Martin Creamer
Photo by: Dylan Slater
JOHANNESBURG (miningweekly.com) – Emerging tin mining company AfriTin is on track to place its first tin concentrate into the market in the fourth quarter of this year.
The Aim-listed company is going all out to put Africa, once the fourth-biggest exporter of tin but now without an industrial-scale mine, back on the global tin map. Namibia, where there has been a consistent mining law since 1992, has no onerous ownership prescriptions.
Following last year's demerger from Bushveld Minerals – now a £270-million integrated primary vanadium producer – AfriTin raised £4.5-million at its initial public offering and then a further £6-million in May, which is all going towards the redevelopment of what used to be the biggest opencast tin mine in the world, the Uis mine in Namibia, which South Africa's former State-owned Iscor closed in 1989.
"We're making great strides, using that money to build a plant and get the mining restarted. Our belief is in getting returns to shareholders as quickly as possible and cash flows are the best way to do that," AfriTin CEO Anthony Viljoen told Mining Weekly Online.
"I'm very excited to be involved," said newly appointed AfriTin nonexecutive director Terence Goodlace, who is keen to direct his considerable mining experience towards the optimal development of the company's tin assets. (Also watch attached Creamer Media video.)
Now that the early phase of reproving that the company can extract cassiterite from the old mine workings is complete, AfriTin has advanced to what it calls the Phase 1 pilot plant, which involves re-commercialising tin production at the former Iscor-owned mine.
Iscor mined over 12 different pits and AfriTin is mining in a pegmatite field that runs for hundreds of kilometres with plenty of room for expansion.
The tin price is hovering at around $20 000/t, compared with $2 000/t when Iscor closed the mine.
The company's focus is on the mine works plan that Iscor drew up with the help of mining consulting firm SRK in 1985. The systematic programme of firming up that data to comply with modern Joint Ore Reserves Committee standards is inspiring new confidence in the resource base, which also hosts tantalum, niobium, lithium, beryllium and muscovite.
"We'll be running a test phase on which of these are economical," said Viljoen. Tantalite, which makes up 10% of the concentrate, sells at $180 000/t.
Tin supply has been in deficit for the last four years. Older mines, like San Rafael in Peru, are running out of ore and grade. Environmental restrictions in Indonesia and China are taking tin out of the market.
But while question marks hover over supply, industrial uses of tin in the solders on electronic boards is entrenched and new uses are emerging in capacitors that stop overheating in buttonless touch pads, electric vehicles, solar panels and even in lithium ion batteries.
The Uis project will itself be taken forward using the best technology, with the correct systems being put in place from inception.
"It's all about diligence. It's about doing the work properly and, ultimately, it's about investing in the right technology and the right mining method and ensuring that you actually deliver what you plan," Goodlace commented to Mining Weekly Online.
"We've got a good commercial grade of tin and what we're anticipating is that Phase 1 will not be as economical as Phase 2, but as we move into Phase 2, we're wanting to be in the lowest quartile production," added Viljoen.
While tin concentrate is generally taken to smelters in Malaysia or Thailand, AfriTin is considering in-country beneficiation.
When investment conditions are more favourable, the company will be looking to restart some of the old tin mines in the Bushveld.
"We've had permitting delays," said Viljoen.
Within the world-renowned Bushveld Complex were significant tin mines, including Rooiberg, Zaaiplaats and Union.
"Our view from a South African perspective is to explore these, to look at the old mining areas and to see how we can redevelop them. One of the targets is the old Zaaiplaats mine itself where we have the mineral rights and where we've drilled out a resource of 20 000 t of tin, which is not to be sniffed at," he added.
AfriTin's Mokopane project is 65 km west of Polokwane, in Limpopo, where targets have been identified on farms and exploration has also been conducted at Groenfontein.