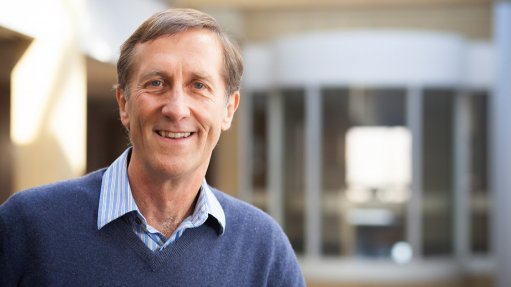 RFG2018 chairperson John Thompson
Photo by: Resources for Future Generations Conference
VANCOUVER (miningweekly.com) – The Resources for Future Generations conference (RFG2018) is scheduled to make its debut on the Canadian resource conference circuit between June 16 and 21, in Vancouver, and is shaping up to be an event unlike the myriad of competing forums held in Canada throughout the year.
RFG2018 chairperson John Thompson points out to Mining Weekly Online in an interview that RFG2018 is expected to be the first international conference dedicated to the availability and delivery of resources to sustain future generations.
RFG2018 will examine three critical resources – energy, minerals and water – in the context of the earth, environment, society and the needs and roles of future generations.
"We are differentiating ourselves from other events in that we are bringing a big scientific component to the conference, as well as a strong societal component. We are determined to create conversation among people and want to encourage closer working relationships between all levels of government, First Nations and society in general about geo-ethics," Thompson says.
RFG2018 is being planned with the view to provide a platform for young people to engage in a conversation about natural resources and to get inspired to solve the challenges of the future.
The event aims to bring together thousands of scientists, policy makers, industry representatives, and members of civil society from around the globe to innovate, build strategies and identify gaps in the knowledge base to meet the needs of future generations.
"It is important to recognise that human existence and progress is based on a sustainable supply of energy, minerals and water. In order to provide resources, we must understand the complexity of the earth. Equally important is the need to develop and use these resources in better and cleaner ways that minimise impacts. Success will require a consensus on how we work together," Thompson states.
In parallel with the conference, RFG2018 is also set to host a plenary session and thematic keynote sessions, with the International Union of Geological Sciences (IUGS), the Canadian Federation of Earth Sciences, the Canadian Institute of Mining, Metallurgy and Petroleum, the Geological Association of Canada and the Mineralogical Association of Canada partnering to bring industry, academia and governments and civil society together to tackle these issues.
Thompson explains that the RFG2018 takes its theme from a new IUGS initiative of the same name designed to mobilise geoscientists, policy-makers and other stakeholders to explore resource and related sustainability issues.
"We are planning for a diverse conference, providing all participants with broad learning experiences, and opportunities to interact with peers and others from different disciplines and backgrounds. The hope is to foster a new shared awareness of natural resources, the distinct opportunities and challenges among these resources, future needs, issues and solutions, and to chart a path forward," he advises.