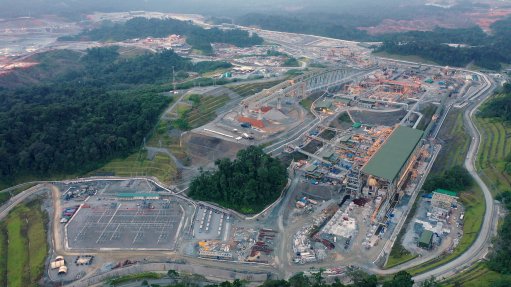 The Cobre Panama plant
With the Cobre Panama mine back at full production following an earlier Covid-19-related shutdown, Toronto-listed miner First Quantum does not expect any further disruptions related to the pandemic, with precautionary measures in practice at all its operations.
The Cobre Panama mine, which was shut in early April by order of the Health Ministry of Panama, has not had any on-site Covid cases since May. Operations resumed in July and full production was achieved slightly ahead of expectation in mid-August.
First Quantum reported on Wednesday that its focus was on maintaining the throughput rate of 85-million tonnes a year at Cobre Panama for the remainder of the year.
Cobre Panama's production for 2020 should be "well within" the group's guidance of between 180 000 t and 200 000 t of copper and between 70 000 oz and 80 000 oz of gold.
Overall, First Quantum expects to produce 725 000 t to 770 000 t of copper, 230 000 oz to 250 000 oz of gold and 15 000 t to 17 000 t of nickel in 2020.
"Operations continue to perform as expected, despite the challenges presented by the current pandemic and the necessary heightened focus on health and sanitation protocols," the miner said in an operations update.
In Zambia, the Kansanshi mine continues to operate as expected, delivering consistent production despite declines in oxide grades and recovery. The company's recently updated mineral reserves and resources at Kansanshi, resulted in a 70% and 40% increase, respectively, over the last update in May 2015. This extended the mine life to 24 years.
At Sentinel, operations have exceeded expectations this quarter, achieving higher-than-average monthly production in July, with more than 23 000 t of copper production and in August, more than 25 000 t of copper production.