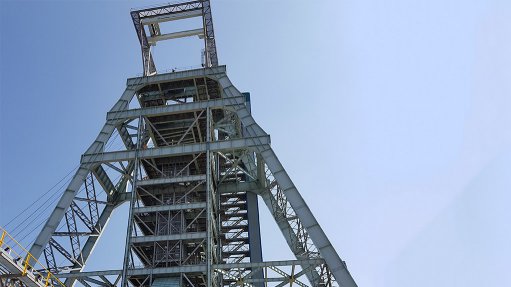 DEEP LEVEL Wesizwe Platinum's Bakubung mine project production shaft headgear
Project delivery and engineering consultancy company WorleyParsons RSA in December completed the first phase of platinum mining company Wesizwe Platinum's R10.7-billion Bakubung platinum mine project near Rustenburg, in the North West.
Wesizwe Platinum officially launched its flagship Bakubung platinum mine development project in July 2011 and WorleyParsons RSA has been involved in the project from prefeasibility and feasibility stages to being appointed as the engineering, procurement and construction (EPC) management contractor in 2012.
"The most important phase in developing a deep, underground mine with vertical shafts is equipping and commissioning the shafts to hoist – and we have successfully achieved that within five years," says WorleyParsons RSA Bakubung platinum mine project director Ryan Illingworth.
He adds that, with the shaft steelwork, rock skips and man cages installed and the production and service shaft complete, the vital work has been done. The second phase of developing underground infrastructure will continue from the middle of this year, following the appointment of an EPC contractor.
"The downcast production shaft, to be used for man and materials, has a hoisting capacity of 250 000 t of ore and 15 000 t of waste a month. "A refrigeration system will provide bulk air cooling at a later stage. The layout of the 8.5-m-diameter lined production shaft accommodates two 20 t skips, a two-deck cage with 12 t per 150-men payload, a counterweight and 20-men service cage."
Illingworth indicates that the 7.5-m- diameter lined service shaft currently consists of a stage winder and kibble winder, which were originally used for the sinking of this shaft but are currently being used as auxiliary hoisting of rock and materials.
Other major milestones that WorleyParsons RSA has achieved on the project include the construction of the main shaft terrace, main stores, workshops, temporary offices, sewage treatment plant, main access road and the production shaft headgear.
Illingworth says the 83-m-tall headgear – for which the company received a South African Institute of Steel Construction award in 2014 in the mining and industrial category, was built in just 18 days and will be used to service all the conveyances.
He adds that a significant optimisation effort that WorleyParsons RSA achieved during the first phase of the project was the local development and implementation of a cost-effective and highly efficient roping-up system, instead of importing a more expensive system.
Illingworth explains that, by working in conjunction with engineering solutions company Tech Edge group, WorleyParsons RSA designed and built the mobile rope-handling system, engineered for installing both head and tail ropes onto a four-rope Koepe friction winder. The construction of the system was completed in October 2017.
"This tailor-made equipment included deflection sheaves, a compression beam, rope reelers and a friction winch – all controlled from a central desk at the operations centre supplied by energy management and automation specialist Schneider."
He says Koepe roping-up equipment was specifically designed for Bakubung and is expected to pass significant time and cost savings to the client over the lifetime of the shaft.
Merensky and upper group 2 (UG2) reefs will be mined at Bakubung. Merensky reef around the shaft area is intersected at about 730.9 m below collar and UG2 reef is 769.4 m below collar. A concentrator plant will also be built at the mine.
"Bakubung platinum mine is expected to have a life span of 35 years and to employ about 3 100 people when full production is reached. "The mine will produce 255 000 t/m on steady state for 24 years. Four mining levels are planned, ranging from 690 m to 810 m below collar," Illingworth concludes.