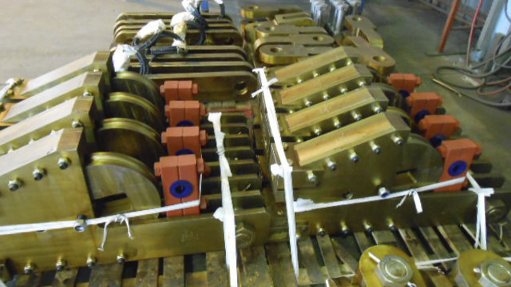 ROPE REQUIREMENTS Four sets of head rope attachments and four sets of tail rope attachments are required for a 4.5-m-diameter drum of a Koepe winder
Mining equipment supplier Becker Mining South Africa has delivered the first load of winding rope attachments for a man and materials shaft winder to a client on the western limb of the Bushveld Igneous Complex, in the northern part of South Africa, which hosts the world's largest reserves of platinum-group metals.
Becker Mining South Africa GM Tom Searle explains that four sets of head rope attachments and four sets of tail rope attachments are required for the 4.5-m-diameter drum of the Koepe winder, which accommodates 38 mm head ropes and 40 mm tail ropes. Complete 30 t Rocket-type safety detaching hook sets were supplied for the man and materials shaft winder, which has a 4.88-m-diameter drum and 51 mm ropes.
"The scope of this contract encompasses the design, manufacture and delivery of rope attachments to suit three different winders on the mine, as well as a complete spare set. Becker has also supplied rope-handling equipment, including wire rope clamps for the installation and maintenance of ropes. About 60% of this order was delivered ahead of schedule and the balance of the equipment was delivered earlier this year, within the required time frames," he says.
Searle points out that the contract also included 5 t Rocket-type safety detaching hook sets to suit the service winder, which is fitted with a 26 mm rope. All hook sets were supplied complete with catch plates and jack catch boxes, which are mounted in the headgear as a critical safety feature to prevent injury to personnel and damage to the shaft infrastructure should an overwind occur.
The Rocket safety detaching hooks are designed to detach the winding rope from the conveyance in the event of an overwind, and arrest and suspend the conveyance in the headframe. This patented design caters for the prevention of partial detachments while in service.
"All equipment, which is proof load tested by Becker Mining to two-and-a-half times the safe working loads it will be subjected to in service, is suitable for the mine's winder duties. It also complies fully with all relevant Mine Health and Safety Act (MHSA) and [other] mining regulations."
Last month, Becker Mining South Africa was awarded a contract for the supply and installation of a collision avoidance system (CAS) at an underground block-cave copper mine in Phalaborwa, in Limpopo, that also operates a smelter and refinery complex.
"Becker Mining South Africa has been a key supplier to this mine of dependable safety and communications technologies for over 15 years, providing turnkey CAS, tagging and tracking, and related communication systems. This project also includes updating existing older generation CAS to the latest Becker CAS, which complies with stringent MHSA regulations," says Becker Mining South Africa electronics senior GM Andrew Trentelman.
He points out that Becker Mining South Africa's latest patented tritechnology CAS is the only system globally that combines ultrahigh frequency, radar and electromagnetic technologies into one scalable system. An early warning indication that alerts operators to the presence of personnel and vehicles in the vicinity, prevents fatalities, injuries and damage.
These modular systems, which range from a simple, low-cost single technology system to an integrated multitechnological system, encompass, Trentelman explains, all aspects of some of the most advanced mining communications and technology.
He mentions that Becker Mining South Africa provides high performance, fit-for-purpose solutions that include leaky feeders, WiFi, tagging and tracking, as well as CAS to the underground and surface mining industry. "In addition to communication solutions, we also offer flameproof underground electrical reticulation products, as well as fluid transfer, rigging and rope attachment systems."
Searle concludes that Becker Mining South Africa's robust and reliable equipment has provided many years of safe transportation of personnel and materials to and from underground operations across the country.