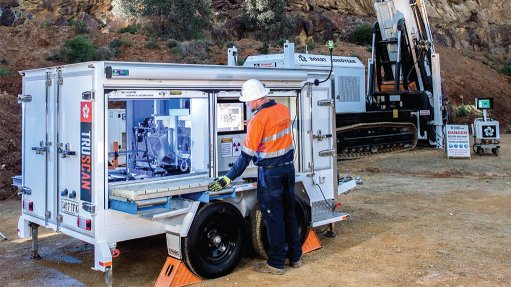 VALUE ORE DATA Veracio will help its clients better use the information acquired when drilling for ore by using Boart Longyear's longstanding technologies
International exploration company Boart Longyear announced the launch of its new subsidiary Veracio – which will combine science and digital technologies in a single, integrated platform for the mining and exploration sectors – in February.
The platform will help mining companies derive more value from orebody data, faster, and help mitigate the environmental impact of the processes.
Veracio is formed out of Boart Longyear's geological data services division, which has been created through extensive research and development (R&D) over the past decade.
"Veracio has already generated a lot of excitement in the industry, and we are looking forward to providing innovative solutions to help companies meet the growing demand for critical minerals and doing so sustainably," says Veracio CEO JT Clark.
He says most clients report that their geoscientists now spend the majority of their time using and applying the data, rather than collecting data.
"This has helped enlighten our clients' workforces and made their jobs more rewarding than ever, which has also aided efforts in employee retention," Clark enthuses.
Additionally, Veracio's clients rely on the information the data platforms create through direct digital sensing and site-specific calibration, with scale and autonomy enabled by artificial intelligence (AI).
The Veracio team is focused entirely on combining science and digital technologies to create user-friendly, practical tools for the mining industry that use AI and other cutting-edge technologies.
"Our customers have started integrating our technologies into their workflows and are using them to understand their orebodies faster and at a much higher definition," he adds.
Clarke says Veracio's technologies allow for the rapid discovery, definition, mining, and processing of ore.
Further, with demand for critical minerals being at an all-time high, the need to discover and mine orebodies faster and at greater efficiency is critical.
"We have already seen a clear increase in interest in Veracio's offerings and the technologies we create," he says, adding that "this increase makes sense and is just the beginning".
Drilling Down
Veracio develops products in three key categories.
The first – digital scanning and sensing platforms – are Veracio's flagship offerings, providing clients with "exceptional value" by setting a standard and expectation for advanced orebody knowledge in the future.
The platforms include the award-winning TruScan for high-resolution sample scanning and X-ray fluorescence, TruProbe – which features the downhole sensing technology – along with TruGyro, and TruSub – an on-rig platform that measures data direct from the drill string.
The second category entails a software ecosystem that supports Veracio's platforms and products – from the cloud storage of raw data to AI-assistive technologies for structural logging.
"Our digital products team is rapidly evolving this technology to support the growth of our platforms," says Clark.
The final category includes downhole survey tools, such as TruShot, Veracio's core orientation tool that configures well with Boart Longyear running gear and wirelessly communicates captured data, with an easy-to-use operator device.
TruScan, TruSub and TruGyro, as well as other borehole survey technologies, have been deployed at multiple mine sites globally.
"We also have future technologies in development which are being tested in our mine site R&D environments."
Protecting and preserving the natural systems surrounding mining and exploration projects is a crucial responsibility for the industry, as it impacts on the planet's health and the long-term viability of mining.
"At Veracio, we recognise this responsibility and we're committed to helping miners to do the same," adds Clark.
The division's approach is rooted in the belief that better technology leads to better decision-making and a smaller ecological footprint.
For example, by more accurately analysing the drill-hole core on site and in real time, mining companies can make informed decisions on drilling locations.
This removes the need for extensive exploratory drilling, which, in turn, minimises waste and significantly reduces the environmental impact.
"Using orebody knowledge and focusing on 'digging deeper into data' enables us to help our clients achieve a more earth-friendly and economically viable approach to mining," he concludes.