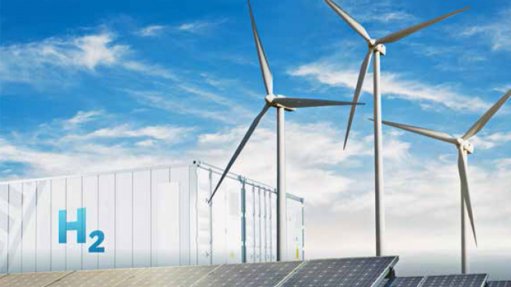 PERTH (miningweekly.com) – Iron-ore major Fortescue Metals' green energy arm Fortescue Future Industries (FFI) on Monday announced the construction of the world's largest electrolyser, renewable industry and equipment manufacturing centre at Gladstone, Queensland.
FFI's Global Green Energy Manufacturing centre (GEM) will be the first in a series of centres that will transform regional Australia through the manufacture of equipment that is critical to the generation of renewable energy and green hydrogen, the company said.
The GEM will be delivered in specialist production lines according to the requirements of FFI and its customers, including the manufacture of wind turbines, solar photovoltaic cells, electrolysers, long-range electric cabling, electrification systems and associated infrastructure.
Stage 1 of the six-stage project will establish Australia's first multi-gigawatt-scale electrolyser factory, with an initial capacity of 2 GW/y, more than double current production globally. Construction of GEM will start in February 2022, following final approvals, with the first electrolysers scheduled to come off the production line in early 2023.
Subject to customer demand, as orders firm for both electrolysers and associated green industry, the investment could be up to $650-million. The initial electrolyser investment is expected to be $83-million.
The GEM will enable Queensland and Australia to become a manufacturing centre for green industry infrastructure for both domestic use and export. FFI welcomes the supply of green energy manufactured products to other customers, with its own requirements underwriting GEM's initial growth.
"FFI's goal is to become the world's leading, fully renewable energy and green products company, powering the Australian economy and creating jobs for Australia as we transition away from fossil fuels. Our manufacturing arm, starting with electrolysers and expanding to all other required green industry products, will herald great potential for green manufacturing and employment in regional Australia," FFI CEO Julie Shuttleworth said.
"Our first factory in Gladstone will become an epicentre for Queensland's green hydrogen ambitions, building on its skilled workforce, its great foresight in industrial master-planning, a world class port, and a constructive and supportive state government."
Established under a landmark agreement with the Queensland government, the GEM will be a key enabler to Fortescue achieving its industry-leading target of carbon neutrality by 2030.
Queensland Premier Annastacia Palaszczuk said that job numbers were expected to exceed 300 over the life of the project, and that Gladstone would become a world-leading hub for the manufacture of electrolysers, vital to the production of renewable hydrogen.
We're seeing growing interest globally in renewable hydrogen," the Premier said.
"We don't just want to export our resources, we want to develop a manufacturing industry capable of making the electrolysers in Queensland as well.
"This partnership will create local jobs, support our economic recovery and create an advanced manufacturing industry in Gladstone that doesn't exist anywhere else in the country."
Deputy Premier and Minister for State Development Steven Miles said the deal was a boost for Queensland's growing credentials as an emerging superpower in renewable hydrogen.
"We will create more jobs in Queensland by capturing industrial and manufacturing opportunities from the global decarbonisation momentum," Miles said.
"The government and FFI are both demonstrating global leadership to develop renewable hydrogen. FFI will now progress plans to build a facility on land developed by the Queensland government at Aldoga within the Gladstone State Development Area.
"This project will put Gladstone on the map as a world leader in the renewable hydrogen supply chain."
Treasurer and Minister for Trade and Investment Cameron Dick said developing a renewable hydrogen industry was a vital next step in maintaining Queensland's dominance as a global energy superpower.
"Our economic recovery plan is all about creating more jobs and creating more opportunities for traditional and emerging industries, particularly in manufacturing. FFI could have built this facility anywhere in Australia.
"The fact they chose Queensland says volumes about our state's advanced plan to use our sun, wind and water to create new jobs and new businesses in regional Queensland.
"We are harnessing the momentum of the massive revolution that is underway in global energy production, and we are doing it for the benefit of all Queenslanders."
The Queensland Resources Council has also welcomed FFI's hydrogen plans in the region, with CEO Ian Macfarlane saying residents in the state were reaping the benefits of the resources industry and government working together.
"The announcement of the GEM is another gem in Gladstone's crown as the engine room of Queensland's industrial economy," said Macfarlane.
"Queensland has long been recognised as an essential source of energy for key trading partners like Japan, Korea, China, India and Taiwan through our exports of coal and gas. Queensland now has an opportunity to build on our reputation for reliability in working towards hydrogen exports."
"Gladstone has the most readily expanded port in the southern hemisphere, so it is the natural home for these exciting new developments."
Macfarlane emphasised that the renewable energy and hydrogen sectors were a major part of the resource industry's low-emission future.
"The resources industry is committed to working with the government on a transition to a low emission future."