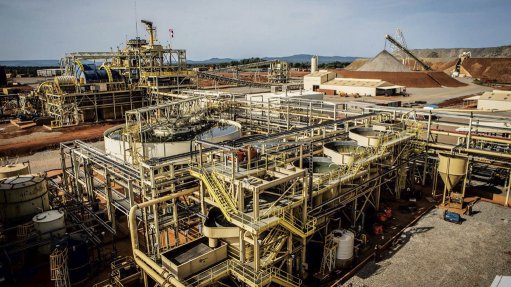 CAPITAL SPEND The mill expansion is estimated to be about $50-million, with B2Gold splitting this capital spending evenly between 2019 and 2020
Canada-headquartered senior gold producer B2Gold has started the mill expansion at the Fekola mine, in south-west Mali.
The expansion, which is scheduled for completion early in the fourth quarter of 2020, is expected to significantly increase yearly gold production and enhance the Fekola mine's economics, says B2Gold's operational and financial results for the second quarter and first half of 2019 published in August.
"The processing upgrade will focus on increased ball mill power, with upgrades to other components, including a new cyclone classification system, pebble crushers, and additional leach capacity to support the higher throughput and increased operability."
The capital costs of this mill expansion are estimated to be about $50-million, with spending evenly split between 2019 and 2020.
It is anticipated that this will be financed from existing Fekola mine cash flows, according to a May 2019 statement.
The mining rate at Fekola will also be increased, along with additional mining equipment to accelerate the supply of higher-grade ore to the expanded processing facilities.
Initial capital costs for the fleet expansion are estimated at $85-million, with $20-million expected to be incurred this year and the balance by the end of 2020. Fleet costs are expected to be financed by equipment loans.
The Fekola pit design, schedule and costs will be refined later this year and in early 2020, when updated resource and geotechnical models are available.
Construction related to the mill expansion is scheduled to start this month and should be completed by the end of July 2020. All major long-lead equipment has been ordered, while detailed engineering and design activities were scheduled to be completed by the end of last month.
Fekola continued its strong operational performance, producing 113 897 oz of gold in the second quarter of this year, up from the 112 644 oz reported for the corresponding 2018 period.
"This is above budget by 10%, or 10 272 oz, as the Fekola processing facilities continued to outperform. The operation continued to demonstrate sustained high processing throughput without reduced recoveries," says B2Gold.
For the second quarter of this year, mill throughput was 1.8-million tonnes, exceeding budget by 34% and the prior-year quarter by 37%. The average grade processed was 2.07 g/t together with average gold recoveries of 94.4%.
Continuing the trends set in the first quarter of the year, processing of ore with favourable metallurgical characteristics, combined with finer than budgeted feed size from the primary crusher – owing to a combination of better ore fragmentation in the pit and softer low-grade ore – has enabled for the processing of additional lower-grade ore from stockpile and run-of-mine sources, beyond what was originally budgeted.
"This has resulted in a lower average processed grade, but also a significant increase in gold production along with marginally increased cash operating costs an ounce. Gold tonnage and grade continue to reconcile well with the resource model," says B2Gold, which plans to continue to expand the Fekola mine throughput and yearly gold production.
Fekola Solar Plant
In the second quarter of this year, the B2Gold board approved the establishment of a solar plant at Fekola.
A study completed by the company to establish the detailed capital and operating cost analysis indicates that a solar plant can provide significant operating cost reductions, with processing costs estimated to decrease by about 7%.
A preliminary study to evaluate the technical and economic viability of adding a solar plant to the mine site indicates that a plant of about 30 MW of solar generating capacity with a significant battery storage component will provide the best economic result.
The Fekola solar plant will be one of the largest off-grid hybrid solar/heavy fuel oil (HFO) plants in the world. It is expected that it will allow for three HFO generators to be shut down during daylight hours, which will save about 13.1-million litres of HFO a year, at a capital cost of about $38-million. Of this cost, $20-million is expected to be incurred this year and the balance in 2020.
The solar plant is scheduled for completion in August 2020 and has a four-year payback.