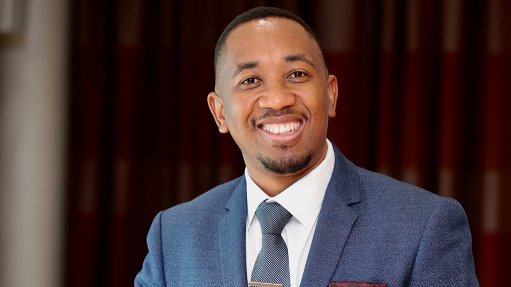 JSE head of origination and deals Sam Mokorosi.
JOHANNESBURG (miningweekly.com) – The June 1 launch of the JSE's new Cutting Red Tape initiative to make listing on the JSE considerably easier, faster and more sustainable is twinning with the JSE's recent private placements inventiveness that provides for the raising of capital in the private market for minerals exploration and the startup of new mines.
JSE head of origination and deals Sam Mokorosi highlighted these two far-reaching advances at the exploration-focused 2022 Junior Indaba, which heard that the Toronto Stock Exchange has 1 600 small-cap mining companies and the Sydney Stock Exchange 600 compared with the JSE's miniscule 12.
"From a JSE perspective, there is a long history with the mining industry, which was, in fact, the reason for our existence as a stock exchange over 135 years ago," said Mokorosi.
These major steps had been taken by the historic exchange on account of the declining number of listings in specifically the small-cap space that is occupied by junior explorers and junior miners, Mokorosi told the hybrid conference covered online by Mining Weekly.
"What we've seen is that people are raising capital for exploration for starting up new mines in the private market so we've now launched JSE Private Placements or JPP, which allows for people to raise capital, and we've already seen, in the last couple of months since we've launched, that there's a lot of appetite in the mining space to raise capital privately," he said.
Then, in the JSE's core listed space, the JSE has recognised that it can make staying listed easier as well as making listing easier and faster whilst also advancing its wholly owned JPP venture, which has been licensed by South Africa's authorised Financial Service Provider or FSP.
This unlocks an opportunity for the JSE to enter the private equity and debt market in South Africa and across the continent. By the end of March, the platform had R5-billion ready for deployment and one project already under way.
Moreover now is the Cutting Red Tape launch, which involves the putting in place of a new JSE board that is not quite as stringent as its main board, but still gives investor protection. It is lighter in terms of processes and regular paperwork than what is demanded of main board listings.
"So, we've put that out into the market to say let us know if these are the right things that will make a difference, so we are looking to make life easier for listed companies and help unlisted companies to raise capital through the JSE," he added.
Panel moderator Kolobe Nala Investment Company CEO Billy Mawasha requested ENSafrica executive tax head Andries Myburgh to outline the workings of the exploration-promoting flow-through tax incentive amid the JSE taking steps to be easier to operate within.
The flow-through scheme is the basis of Canada's colossal exploration success and Mawasha asked Myburgh to elaborate on why it has been so long in coming in South Africa despite ongoing discussion with National Treasury over very many years.
"If all of the departments pull together, now is the time to do it," was Myburgh's response.
NEW ERA
As reported earlier by Engineering News & Mining Weekly, the JSE is entering a new era as it leverages JPP to build a future-fit capital market delivering a seamless digital marketplace that matches private debt and equity issuers with investors.
The strategic decision to broaden its revenue stream by entering the private equity and debt market is in response to a shift in capital formation that has been emerging over the past decade.
JSE capital markets director Valdene Reddy has been reported as saying that there has been a global trend away from public markets to private markets, which show phenomenal growth in capital formation and allocation.
"By launching JPP, the JSE is providing an alternative to raise capital, through either private equity or private debt, which stands alongside our public market space," she says, noting that the firm is strongly focused on national agenda objectives, such as small and medium-sized enterprise development and infrastructure funding.
"Infrastructure has been a huge focus of the South African economic recovery agenda. In fact, globally and for most emerging markets, that is a pivotal area for growth," Reddy told Engineering News & Mining Weekly during a video interview at the JSE in April.
As the JSE worked to respond to the demand for alternative capital raise through private placement, the exchange entered into a strategic partnership through an equity investment into UK fintech company Globacap Technology to progress a digital private placements platform and registry services.
Globacap's unique distributed ledger technology allows digital registrar services to be reflected in real time.
Leveraging the technology provided by Globacap, JPP offers services to private entities looking to raise debt or equity through an automated and digitalised platform, connecting private companies and issuers directly to investors and enabling private capital formation in a more transparent, efficient and accessible manner.
Mokorosi said at the time that investors and issuers each outline their ambitions, investment criteria, target markets, requirements and budgets, besides others, to enable potential matchmaking.
With an end-to-end solution, deployed over time, the history of previous placements and deals can be tracked, providing extensive visibility.
"Essentially, this is probably one of the first of its kind with such a breath of its solutions. It is both private equity and private debt; it is a digitalised solution and it is easy to use," Reddy added.
Since obtaining an FSP licence, JPP is ready for deployment to fund deals in mining, renewable energy, health, construction and technology startups, besides others.
JPP went live with the first deal – the development of a private hospital in Musina, in Limpopo – at the end of March.
"We are excited to partner with the developer to help raise the required capital. The developer is currently looking for R140-million, half of it debt, and the equity is coming through JPP," it was stated.
After going live, strong appetite from potential investors in renewable energy, housing, student housing and hospital projects was noted, along with good demand for battery-related minerals as investors eye participation in the battery and electric vehicle revolution.