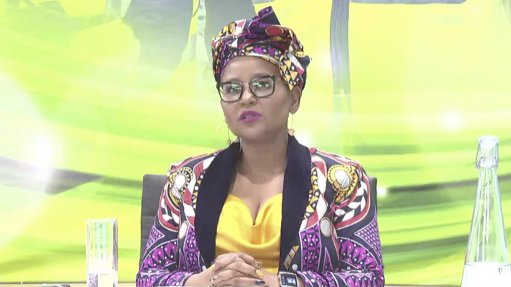 Exxaro CEO-designate and MD Minerals Dr Nombasa Tsengwa
Photo by: Creamer Media
JOHANNESBURG (miningweekly.com) – By investing in operating manganese, bauxite and copper assets, the new Exxaro Minerals business could represent 50% of expected coal earnings within ten years, Exxaro CEO-designate and MD Minerals Dr Nombasa Tsengwa stated on the Johannesburg Stock Exchange-listed coal company's website on Monday.
Exxaro outlined its strategy in response to climate change while hosting a virtual Capital Markets Day.
The expected earnings before interest, taxes, depreciation and amortisation percentage of commodities of 30% in phase 1 and 50% in phase 2 would exclude energy and ferrous metals, the company stated under the heading:"We aim to scale purposefully".
The mission of the minerals business in manganese, bauxite and copper would be "to utilise Exxaro's mining skills to supply minerals that power a cleaner world...and provide our shareholders with superior returns whilst driving decarbonisation ambitions".
The company stated on its website that there was no better time to embark on its decarbonisation journey owing to its proven ability to outperform its value creation targets and its healthy position to leverage growth.
The company, headed by CEO Mxolisi Mgojo, has achieved an annual return on capital of 25% from 2016 to 2019 and an average debt-to-equity ratio of 9% over the same four years.
Its deep-rooted competencies from which to grow, the company stated, included its opencast mining and bulk commodity product experience in coal as well as base metals, mineral sands and industrial minerals experience.
Of the three minerals targeted to 'power a cleaner world', the company's commodity prioritisation process had identified manganese, bauxite and copper as providing the best risk-reward ratio.
Describing manganese as providing "attractive opportunities in our own backyard", Tsengwa outlined the impending two-million-tonne-a-year projected shortfall in manganese supply by 2035.
In copper, it would be targeting the consolidation of fragmented emerging participants to exploit attractive margins, with favourable entry points in the second and third quartile of the cost curve.
In bauxite, timing would be critical in a market that would have a 65-million-tonne supply gap by 2045 that China would no longer be able to bridge.
Merger and acquisition experience included Exxaro's acquisition of Namakwa Sands, Total Coal, Black Mountain and Tata's shareholding in the Cennergi renewable energy business to make it the 100% owner.