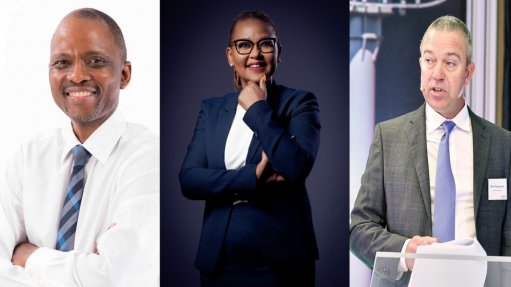 Exxaro outgoing CEO Mxolisi Mgojo, incoming CEO Nombasa Tsengwa and FD Riaan Koppeschaar
JSE-listed diversified resources group Exxaro Resources has declared a total ordinary dividend for the 2021 financial year of R32.52 apiece, up 72% compared with the prior year.
Outgoing CEO Mxolisi Mgojo attributes the group's solid performance to a committed delivery of strategic priorities and the company having taken decisive action in a dynamic environment.
Some logistical challenges, including rail capacity constraints, persisted throughout the financial year under review and continue to impact on coal volumes currently.
Exxaro recorded a 37% decline in its export coal volumes to 7.6-million tonnes for 2021, owing to logistics constraints.
Incoming CEO Nombasa Tsengwa expects these challenges to continue throughout this year, but affirms that discussions are under way, at industry level, with Transnet to resolve the rail challenges.
She says the challenges experienced by Transnet Freight Rail are systemic in nature and require a concerted effort, together with government, which will take time.
Marketing manager Sakkie Swanepoel elaborates that sabotage, cable theft and vandalism along Transnet's rail lines increased over the last few years and that this requires "a lot of support and effort from the private sector and government".
"The availability of locomotives is also an issue. Transnet has not been able to procure the necessary spares, owing to legacy issues. The State-owned freight utility is trying to retrofit spares on those locomotives that need components.
"Transnet is also embarking on a programme to source local suppliers for some of these spares, which takes time. We are hopeful that towards the end of the year we should see good progress on those fronts," he notes.
Meanwhile, market fundamentals for coal remained strong for most of 2021. Mgojo notes that the coal price declined towards the end of the year and resulted in Exxaro's export price achieved averaging $124/t in 2021.
Tsengwa points out that Exxaro could not fully capitalise on the healthy demand for its suite of products and the high thermal coal price as a result of the railway issues.
However, strong commodity prices nonetheless supported a 46% year-on-year increase in Exxaro's core earnings before interest, taxes, depreciation and amortisation (Ebitda) to R10.7-billion.
Net operating profit totalled R9.7-billion for the year, compared with net profit of R4.8-billion for 2020.
After adjusting for noncore items, core headline earnings per share (HEPS) amounted to R46.83 for the year under review, compared with core HEPS of R29.73 for 2020, which was partly owing to a decrease in the weighted average number of shares to 247-million, after Exxaro undertook a R1.5-billion share repurchase programme.
Tsengwa mentions that the company achieved a record fatality-free performance of five years and achieved a lost-time injury frequency rate of 0.08.
The company continues with its portfolio optimisation, the value maximisation of its coal assets and pursuing opportunities in the low-carbon transition.
To this end, Exxaro is aiming for a 40% reduction in Scope 1 and 2 emissions by 2025 and maintains its leading environment, social and governance (ESG) rating on the Financial Times Stock Exchange Group Russel ESG Index.
Exxaro is planning to develop renewable energy generation capacity at all of its mines, which will comprise 200 MW of developments.
Mgojo will be retiring in July and tells Mining Weekly he will endeavour to remain involved in the mining industry after taking a break to spend time with family.
COAL
Coal production volumes across all Exxaro mines (excluding buy-ins) decreased by 10% year-on-year to 42.2-million tonnes, mainly owing to the impact of the logistical and market constraints, as well as the company selling its Exxaro Coal Central noncore operation.
Coal revenue increased by 13% year-on-year, largely driven by an increase in revenue from its commercial mines as higher sales prices were achieved in all markets.
Higher domestic sales volumes were offset by lower export volumes.
Coal core Ebitda of R10-billion was an increase of 38% compared with coal core Ebitda of R7.7-billion in 2020, driven mainly by higher commercial revenue; lower selling and distribution costs (saving about R734-million) owing to lower export volumes; realised and unrealised exchange rate gains of about R231-million; and lower operational costs of about R136-million, mainly owing to lower production volumes and cost-saving initiatives.
The increase in coal core earnings was, however, partially offset by inflationary pressure and increases in diesel and electricity tariffs.
ENERGY
Energy core Ebitda was R914-million in the year under review, compared with R648-million of core earnings in 2020; however, this was not a year of full operation, as the acquisition of Cennergi was still under way.
The two Cennergi wind farms were operating at the lower end of the historical range compared with planned capacity owing to lower-than-expected wind speeds, increased maintenance in low-wind periods, as well as the end-of-five-year-warranty inspections impacting negatively on energy generation.
Combined electricity generation was 724 GWh in the year under review.
The normalised Cennergi Ebitda margin exceeded 80%, which shows the consistency of earnings and margins, underpinned by long-term offtake agreements.
The Cennergi project finance debt of R4.7-billion will mature over time and be fully settled in 2031. It has no recourse to the Exxaro balance sheet and is hedged through interest rate swaps at an effective rate of 11.9%.
Mgojo says Exxaro is well-positioned for a meaningful role in the South African energy transition and achieving carbon neutrality by 2050.
Simultaneously, the energy generation mix in South Africa will continue to be dominated by coal, but with renewables playing an increasing role.
"In the short term, we aim to establish our credentials as a distributed energy solutions producer, while reducing Exxaro's carbon footprint. In the long-term, energy production and asset management will create an annuity income stream for the group.
"We have set an ambitious target for our new Exxaro Minerals business to represent 50% of expected coal Ebitda within ten years and aim to scale purposefully and build from a position of strength to ensure that we align to Exxaro's decarbonisation ambitions," he notes.
"Our competitive advantage is our mining and project development capabilities and the strength of our balance sheet to fund acquisitive growth in the development of our energy business and minerals strategy," Tsengwa concludes.