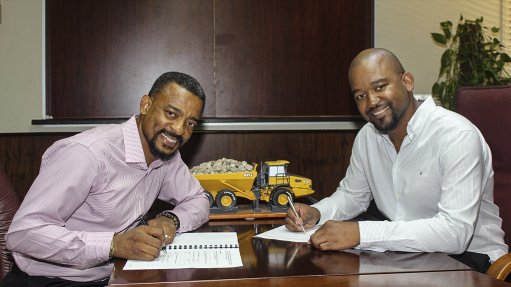 Exxaro stakeholder affairs executive head Mzila Mthenjane and Bell Equipment MD Duncan Mashika.
Empowered resources company Exxaro Resources has signed a memorandum of understanding (MoU) with equipment dealer Bell Equipment Sales South Africa (Bessa) to enhance the offering of its enterprise and supplier development (ESD) programme.
The MoU, intended to formalise a partnership within its ESD programme, is aimed at giving contractors access to mining equipment, at affordable rates, and will also provide aftermarket advice and support to the contractors.
Exxaro CEO Mxolisi Mgojo on Friday said the company "recognises the role and constraints faced by contractors to enable [Exxaro's] success and, hence, [the companies] have invested in this partnership to overcome these challenges".
Partnering with Bell better positions Exxaro to deliver on its goal of contributing to the country's economy, while addressing the needs of communities surrounding its operations, the parties noted in a statement, adding that creating more and better-quality jobs, "is key to reducing poverty and increasing social unity".
"Exxaro continues to use ESD to power better lives for the residents of our communities. Partnering with Bell Equipment enables us to fulfil our promise of addressing the needs of contractors, in this case, to ensure they're equipped with the tools for success," said Exxaro stakeholder affairs executive head Mzila Mthenjane.
The partnership aims to create opportunities for existing contractors to better themselves and will consider the emerging workforce and its potential to fulfil important roles.
Bessa MD Duncan Mashika also noted that, as a group, Bell is "excited by this MoU" and believes that it is "ideally positioned in terms of [the company's] premium product range and proven support network to continue to provide Exxaro and its contractors with a win-win solution".
He added that, as a local company, Bell "understands the challenges facing contractors and is eager to assist them in accessing quality equipment that best meets their needs and helping them to achieve the most from their Bell ownership experience".
Exxaro has confirmed that it plans to enter into similar agreements with other industry leaders who share its vision.