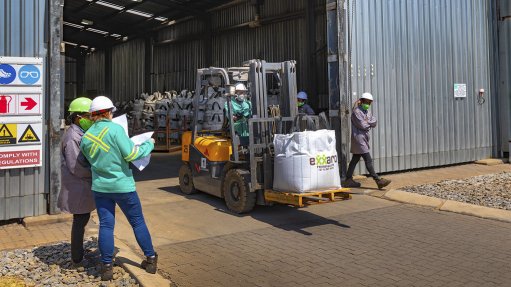 With a keen focus on environmental sustainability and a commitment to ongoing research, Exxaro's FerroAlloys operation has fast grown into one of the leading suppliers of ferrosilicon in the world.
A subsidiary of Exxaro Resources, one of the largest and foremost black-owned South Africa-based diversified resources companies, Exxaro FerroAlloys has over the last two decades, developed two ground-breaking processing technologies aimed at improving beneficiation processes.
Through this research, Exxaro has been able to increase the recovery of mineral products from low grade stockpiles, resources and waste dumps to overcome global mining challenges such as depleting reserves and resource quality issues.
Busi Bane Business Unit Head of Production at FerroAlloys explains, "In line with our operational principle of efficiency and innovation, we believe that through constant scientific exploration and discovery we can enhance our product to the highest quality yet maintain a net positive impact on the environment."
Exxaro FerroAlloys supplies top quality ferrosilicon which is atomised using nitrogen gas and specifically tailored in various particle size distributions. The product can also be tailored for most application requirements and specific blends can be created for an ore body.
The ferrosilicon product has superior qualities with respect to sphericity, homogeneity, degradation resistance, specific gravity, corrosion resistance and magnetism.
The production process guarantees that each ferrosilicon particle is consistently spherical, solid and dense to ensure superior performance as a dense medium compared to conventional atomisation methods using water and steam. The superior physical properties result in enhanced beneficiation through dense medium separation.
Bane concludes, "As with all Exxaro products, we are confident of quality and production capability which we benchmark against global standards. Our team also possesses extensive experience and knowledge in mineral processing and technical support is available to all our customers. Such is our attention to detail that we make sure all packaging used is safe, water resistant, durable, stackable and biodegradable."
The company is ISO 9001, ISO 14001 and ISO 45001 certified and adheres to strict control measures to ensure compliance with all quality, environmental and health and safety standards.