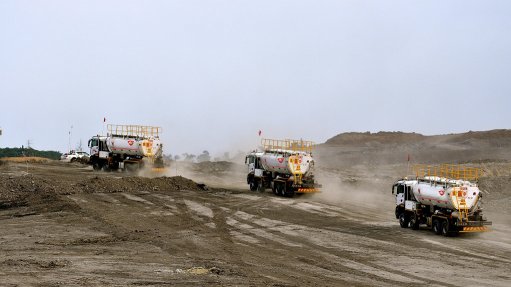 LATIN AMERICAN EXPANSION The improvement of business and consumer confidence and other economic metrics in Latin American countries presents an opportune time for AEL to expand in this market
Mining explosives solutions provider AEL Intelligent Blasting acquired full ownership of Brazilian explosives company Dinacon in April this year as part of its international expansion strategy, which will give the company an increased presence in South America.
The acquisition includes a bulk emulsion and packaged explosives manufacturing plant, as well as distribution and storage facilities in São Paulo, Brazil.
"The improvement in business and consumer confidence and other economic metrics in certain Latin American countries are positive signs for AEL and present an opportune time to expand in this market," states AEL Brazil MD Carlos Goncalves.
The transaction, which was implemented through a judicial recovery process, has been finalised and is expected to take effect in the third quarter of 2019. Dinacon Lorena will then be rebranded as AEL, as trading will start under the AECI Group of Companies Latin America (Latam) banner.
With the mining sector being a significant component of Brazil's economy, AEL would be able to leverage its experience in openpit and underground mining from its operations in Africa, Australia and Indonesia.
The acquisition will support AECI's Latam operation that has focused on the distribution of fertiliser additives for agriculture, explosives surfactant technologies and mining chemicals for ore beneficiation.
Dinacon has supplied explosives mainly to the Brazilian civils and construction industry, and its involvement in the Brazilian mining sector up until now has been limited.
"It is the first of its kind for AEL in Latin America and represents an ideal platform to grow the AECI Group's Mining Solutions business in the rest of the region," Goncalves enthuses.
AEL has also successfully conducted and completed trials during which its explosives, initiating systems capabilities and expertise were evaluated at selected South American mining operations. The trials were done as part of an extensive qualification process that began in 2017, which larger mining companies require of explosives suppliers.
Owing to the successful trials, the company was invited to participate in several tenders for these mining operations, with the bidding process having started in December 2018.
"The qualification of AEL as being a reputable explosives company with the necessary know-how and complete product and service offering has been a critical milestone to achieve among the larger mining houses in the Latin American region," says Goncalves.
The biggest opportunities for AEL exist within mining companies that are seeking value-adding explosives service providers that are less commoditised and can meet their high expectations, particularly in optimising their own operations across the entire mine-to-mill process, which starts with drilling and blasting activities, he concludes.