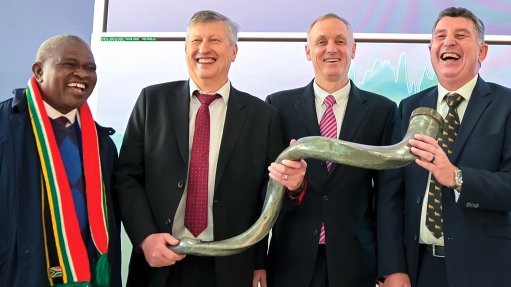 From left to right, Joel Nkosi, Johan Odendaal, Terence Goodlace and Daan van Heerden at JSE earlier this year.
Photo by: Creamer Media
JOHANNESBURG (miningweekly.com) – Exploration drilling is gaining momentum at Southern Palladium's Bengwenyama platinum group metals (PGMs) project, a large, shallow exploration opportunity on the eastern limb of South Africa's Bushveld Complex.
One specific borehole into upper group two (UG2) reef recorded an impressive 800 centimetre grams per tonne grade.
The project has a Joint Ore Reserve Committee- (Jorc-) compliant inferred resource of 18.8-million ounces across the UG2 and Merensky reefs as one of the last undeveloped outcropping or subcropping extensions in the eastern limb.
"The community is very supportive of this project," Southern Palladium CEO Johan Odendaal enthused in a Zoom interview with Mining Weekly. (Also watch attached Creamer Media video.)
Some A$13-million, or between R150-million and R160-million rands, is earmarked for exploration, with R15-million being spent to date.
Southern Palladium was twice subscribed when it raised A$19-million on the ASX in Sydney on June 8 this year, with a secondary listing also being taken up on the JSE in Johannesburg,
Since exploration drilling began in August, the number of drilling rigs has increased fivefold with a likelihood of one of two more being deployed in the new year.
Overall, some 4 200 m have been drilled so far amid 70% of the A$19-million raised heading for direct development.
With the bank balance at A$15.3-million, there is sufficient funding to complete Phase 1 and 2 of the drilling programme, as well as the prefeasibility study and mining right application.
Consideration is now being given to bringing forward the date of completion of the exploration programme, originally targeted for June 2024.
Completion of the feasibility study is now likely towards the end of 2023, when the mining right application is also likely to be submitted.
"The relationship with the Bengwenyama-ya-Maswazi host community goes back 16 years, and through these years, we've built a very strong relationship with the community," said Odendaal.
The community holds a 30% direct interest in the project and a further indirect interest through its 12.3% stake in Southern Palladium.
"What has been important for us is to specifically establish a framework of how are we going to operate and take this project forward, and build on the relationship that we've had so far with the community.
"If you look at the various layers within the community, with the royal family, the traditional council and the community on the ground, all of them are in support of this project. What we do as a company as well, even at this early stage with the exploration, we try and see how we can involve the community.
"As an example, through this whole process, we currently occupy a building on the community ground, and we rent that building from the community.
"We upgraded it with the community and it will go back into the community in that upgraded state.
"A fence was erected and we got the community involved, and diesel is bought from a local supplier. All in all, we have a community on board and their support to get this project off the ground," said Odendaal.
Mining Weekly: What are the early indications of your concept study?
Odendaal: Regarding the concept study, or scoping study, as we know it in Australia as well, we will make an announcement early in January specifically on that, and there have been various reports by analysts and I'd refer you specifically to Chris Baker's report that's also on our website that gives an indication of what can be expected from this project. In terms of a scoping study, we will make that final announcement in January and then we will proceed with the prefeasibility study. We're currently just getting all the approvals to go ahead with that.
If all future results are positive, when is it envisaged that mining may conceivably be able to begin at Bengwenyama?
If we look at the strike length, this project can maintain a production in order of 170 000 t a month, more or less, and those final numbers will come through in the feasibility study. It's a big operation, so what we we're looking at currently is taking this exploration through to the end of next year. Once we've submitted our mining right application end of 2023, we've got a 300-day period, up to where it gets granted. That takes us to end of 2024 and during that time, once we get approval for our mining right application, say in January 2024, we'll be pretty sure that we're moving into getting that granted during that time of specialist studies. The end of 2024 would certainly be the time where the go-ahead will be given. That will then proceed into construction, which will probably take us another three years to get into construction. It is still a while before we get there but again what is important about this project is that we are the only junior sitting with a project of this size and at shallow depth on the eastern limb of the Bushveld Complex. What this allows us to do is to construct in a shorter period compared with deeper operations where you have to look at that vertical shafts. We will look at a decline, and that will shorten the period and in terms of build-up as well, shorten that time.
Will all mining be underground?
We will look at underground mining. Our target is the UG2 reef and if you look in general at the UG2 operations, they are underground. For now as well, if we look at the PGMs market and for that we certainly rely on analysts and their predictions of what is happening, then the UG2 is still quite attractive for us. But the Merensky, with its higher platinum-to-palladium ratio, is certainly something that is there in our back pocket for longer term. In terms of the development of the operation as well, we'll consider that in terms of our access to the body. Also, if we get higher platinum prices, the Merensky reef will become quite attractive in terms of its wider reef width compared with the UG2.
When you talk wider reef are you're saying there's a possibility of mechanised mining?
Specifically on the Merensky, yes, it's certainly something that one can look at. We have a reef width in the order of two meters, which makes mechanised mining attractive to consider.
What do initial assay results say about the UG2 reef of the Bengwenyama project?
We have the two reefs on the project very typical of the Bushveld Complex, Merensky reef and also the UG2 reef. In our prospectus, we announced the Jorc-compliant inferred resource of 18.8-million ounces and in particular on the UG2, we announced 7.7 g/t over 71 cm. The initial drilling we started was specifically in the area towards the east of the farms, where we intersected the UG2 and that's for a specific reason, because the Merensky outcrop's a bit further west. The results for us were quite significant in terms of two things. One was to confirm the grades, and secondly to confirm those prill splits because we are in a sweet spot on the eastern limb of the Bushveld. Initially we announced a prill split of 44% platinum, 44% palladium, 10% rhodium and rest gold. In the first place our prill split came out exactly what we expected and that's so unique of this Bushveld Complex is that it is quite consistent in terms of prill splits and grades. In terms of a prill splits, 44% platinum and 45% palladium spot on, what we expected. In terms of our grades, slightly higher than what we expected currently. For the three boreholes that we assayed, we reported 8.73 g/t over a 77 cm width, which was again very much in line with our expectations. But what is also more important for us is if we look at where our initial inferred resource has been delineated, which was in the northern part of the farm Eerste Geluk, extending into the west into Nooitverwacht, we specifically drilled two boreholes into the south eastern part and which is still in our exploration target area, and in both of those drillholes, firstly, we intersected UG2, which was great because that confirms now the reef in that area, and secondly, in terms of grade as well, we reported grades very much in line with our expectations. If you look up the Bushveld grades, they are reported at a specific grams per tonne, over specific centimetres, and it's always good to convert these two centimetre grams per tonne and the average Bushveld UG2 centimetre gram per tonne in that area is ranged between 600 centimetre grams per tonne to 700 centimetre grams per tonne and in this one specific borehole that we drilled in the south eastern part of Eerste Geluk, we recorded at 800 centimetre grams per tonne grade, which is fantastic for us.
Is chrome expected to emerge as a viable byproduct?
UG2 is chromite reef and we are eagerly awaiting what we tested for as well, and those results will be announced fairly soon. It's basically all the six PGMs plus gold, nickel, copper and chrome and we specifically tested for the chrome in the UG2. If we look at the PGM mines in the Bushveld Complex nowadays, all of them have produced chrome as a byproduct. We're eagerly waiting those results, which will come out and be announced soon, and in there, we tested for chrome.
How would you rate South Africa as an investment destination so far?
That's a very interesting question and I'll tell you why. If we look in particular at the South African PGMs industry, the barriers to entry into the platinum industry are quite high. If you look at downstream beneficiation, normally what you find on site is typically mining plus a concentrator. What happens is that the concentrate is then on sold to one of the bigger producers, who put it through a smelting process and then base metal refining and precious metals refining. As an investment destination for platinum in particular is where I believe South Africa is quite attractive. We've got an established infrastructure in South Africa. We've got a whole downstream beneficiation established in South Africa. For us and for all the juniors on the eastern limb, once you produce a concentrate, it basically takes you half a day for that concentrate to land up at the smelters and it's something that we forget. Despite our electricity problems, we still have established infrastructure in South Africa. Also, if you go to Steelpoort and you look at what we have there, we're surrounded by mining operations, so the processing method is well established. It's proven technology. If we look at skills, it's a mining community that we are developing into, so all that makes it quite attractive still to look at investing in South Africa.