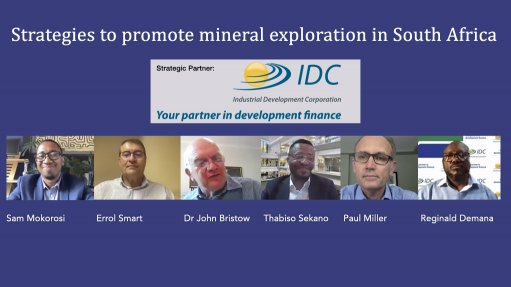 Exploration webinar.
Photo by: Creamer Media
JOHANNESBURG (miningweeky.com) – The withdrawal of a portion of the National Environmental Management Act (Nema) has created a major challenge for mineral exploration in South Africa, the Industrial Development Corporation (IDC) co-sponsored exploration webinar heard on Thursday.
Taking part in the panel discussion under moderator and seasoned geologist Dr John Bristow were IDC mining, metals, and beneficiation head Thabiso Sekano, IDC head of mining and metals, infrastructure and energy Reginald Demana, Minerals Council South Africa junior and emerging miners' leadership forum chairperson and Orion Minerals CEO Errol Smart, JSE origination and deals head Sam Mokorosi and AmaranthCX director Paul Miller. (Also watch attached Creamer Media video.)
Highlighted during the debate was that the Mineral and Petroleum Resources Development Act (MPRDA) introduced international best practice by placing privately held mineral rights under the custodianship of the State, so that these rights could be made available to anyone who met the licensing conditions.
But the webinar heard that this freeing up of mineral rights has been reversed by Nema, which has now placed these rights under the control of the surface rights owner and permission of the surface rights owner is required to make an environmental impact assessment application for the prospecting rights.
In this way, surface rights owners now control access to the mineral rights and can negotiate their commercial terms. As a consequence, a major benefit of the MPRDA – which led to considerable junior mining uptake in South Africa prior to the global financial crisis of 2008 – has been undone.
"Before you can put foot on the ground to see what's there, you've got to agree the compensation terms with the farmer who owns the land. So what's happened? We've completely wasted what the MPRDA was all about," said Smart, who made a call for all government Ministries to work together to promote mineral exploration.
Global Diamond Network CEO Bristow – who is credited with developing a unique micromineral (perovskite) age-dating technique at the Research School of Earth Sciences (RSES), Australian National University, Canberra, with Hugh Allsopp (Bernard Price Institute, University of the Witwatersrand) and Bill Compston (RSES) in the 1980s, courtesy of De Beers – spoke of the need for greenfield exploration to unlock "the amazing jewel box of deposits that South Africa still has".
"I think we are delinquent if we don't actually get back to proper exploration and try and liberate some of these smaller deposits. Exploration creates new capital, infrastructure and, most of all, it creates jobs," said Bristow.
Miller emphasised that incentives put in place must stimulate both exploration and participation in the development of South Africa's public markets.
While most prospecting licences issued do not lead to the discovery of mines, they do generate knowledge and that knowledge needs to be curated.
"The payback for the State for the people of South Africa should be that the knowledge is then collected and turned over to the next person who wants to have a look," said Miller.
Demana expressed confidence that a fund with critical mass could be developed for channelling into exploration funding. He acknowledged the promising engagement under way to unlock the regulatory and policy issues and also the efforts being made by the JSE to open and educate markets to exploration.
Sekano spoke of the IDC being well positioned as an experienced funder, with one of its core competencies being the conducting of due diligences.
"We're experienced in assessing businesses for funding opportunities," he said, adding that the IDC was looking at an opportunity to crowdfund an exploration fund for use at any stage of exploration.
South Africa's stated target of attracting 5% of global exploration expenditure will require the attraction of between R6.5-billion and R8.5-billion a year of exploration spend – many times more than the current figure of R1-billion-plus.
"Hopefully, over time, we'll be able to get to the R8-billion a year that has been mentioned," Sekano added.
On the absence of junior mining companies on the JSE, Mokorosi said the exchange had been engaging with government on some of the factors that could make it easier for smaller companies on the JSE.
He held up the Toronto Stock Exchange as a global leader in listing exploration companies, and pointed to Canada's the flow-through share scheme as being a successful incentive.
In the broader small caps space, the JSE had, he said, published for consultation a "cutting red tape" paper, with proposed amendments under consideration.
"We're also looking at some of the liquidity challenges within the small cap space. We're happy to see that Satrix, one of the largest broad-based exchange-traded funds, goes all the way to the tail end of our market, up to issuer number 140 of the 330. We're also looking at the challenge around research coverage.
"We're seeing it as a broader ecosystem challenge. Some of it is regulatory. Some of it is work that we can do to make things a bit easier for listed companies, especially smaller caps, so we're working on a multi-pronged strategy to try and fix all this," Mokorosi said during the webinar covered by Mining Weekly.
On the need for the introduction of an enabling regulatory and policy environment, Smart closed with these words: "We all know what the elephant in the room is, and we all know how to eat it – in little bites. What we've got to do is start eating. It can be done very, very quickly if the political will is there."
On the availability of expertise in South Africa, Bristow concluded thus: "The one thing that's not lacking in South Africa is expertise and experience. We just have so much of it, and somehow we've got to use it better and get particularly government to listen to us."