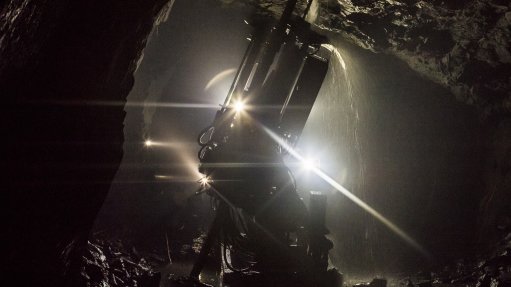 GOING UNDER Golden Star is developing underground mines both its established mines in Ghana – Wassa and Prestea
NYSE- and TSX-listed gold mining company Golden Star's underground development at its Wassa gold mine, in Ghana, has advanced significantly, with access to the first F Shoot stopes on schedule for the second quarter of 2016.
Golden Star is expanding both its established mines in Ghana – Wassa and Prestea. The company aims to develop underground mines below the mines' existing openpit operations that will allow access to higher-grade ore and increase operating margins.
In 2015, Golden Star published the results of a feasibility study which indicated that underground development at Wassa could produce on average 163 000 oz/y of gold over its expected eight-year production life, with average cash operating costs of $780/oz and all-in sustaining costs of $938/oz estimated for the combined Wassa operation.
The study has calculated an internal rate of return of 83% at an assumed gold price of $1 200/oz. The net present value at a 5% discount rate is calculated at $176-million. Golden Star reports total proven and probable reserves for Wassa, as at December 31, of 24.1-million tons, grading 2.04 g/t of gold, containing 1.6-million ounces. The total measured and indicated resources stand at 49.5-million tons, grading 2.21 g/t gold for 3.5-million ounces, inclusive of the mineral reserves. The $39-million Wassa underground project holds reserves of 5.4-million tons at 4.26 g/t gold for 745 000 oz of gold. Inferred resources comprise 11.6-million tons, grading 3.79 g/t gold for 1.4-million ounces of gold.
The Wassa underground project has advanced substantially since development began with the addition of the F Shoot, which Golden Star believes to be a parallel zone to the main mining stopes along the initial single orebody B Shoot structure.
The company plans to publish its 2015 year-end mineral reserves and resources statements later this quarter, which will include additions for the F Shoot target that were delineated during Wassa's 2015 drilling programme. The F Shoot target has successfully been extended north of the current reserve and remains open down plunge to the south.
"These drill results, testing the extension of the F Shoot minerali- sation north of the planned mining stopes, are very encouraging. We expect future F Shoot drilling programmes to continue to add ounces to the Wassa underground resources and reserves. These drilling results indicate grades and thicknesses that could be mined underground. "The location of these zones allows quick access to these areas, potentially adding ounces to our near-term production," says Golden Star president and CEO Sam Coetzer.
The results from this phase of drilling have shown that the grades and thicknesses amenable to underground mining are north of the current F Shoot designed mining stopes and, therefore, additional drilling is being planned from the surface and underground to better delineate the higher-grade portions of the structure. The drilling programme was scheduled for the first quarter of 2016.
With regard to Prestea, Golden Star has filed a technical report for a feasibility study to develop the mine's underground operation. Golden Star expects that the developments at its mines will transform the company into a lower-cost gold producer.