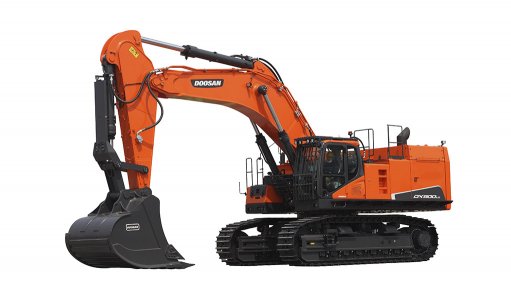 MADE FOR TOUGH CONDITIONS The excavator has an operating weight of 78 500 kgs and is the largest machine in the Doosan's range of construction and mining equipment
Construction and mining equipment manufacturer Doosan's DX800LC-5B tracked excavator series, which was launched early last year, has received a positive market response from the local mining industry.
Doosan is part of the Capital Equipment Group (CEG) division of investment holding and management company Invicta Holdings.
"The new DX800LC-5B tracked excavator – with an operating weight of 78 500 kg – is currently the largest machine in the Doosan range of construction and mining equipment. This robust machine has been designed for high productivity, fuel efficiency, minimal downtime and greater safety in harsh operating conditions," says Doosan MD Darrel Holton.
The excavator has a re-designed structure that features a heavy-duty front and improved undercarriage. It has been fitted with different components that allow for continuous operation in arduous environments with little to no downtime.
"Our customers are also impressed with the fuel efficiency of this machine. The new DX800LC-5B engine, with enhanced power and durability, offers cost-effective performance and low maintenance requirements."
Additionally, Holton notes that Doosan's customers have commented on the convenience of being able to easily select the appropriate operating mode for various work environments. "The boom/swing priority control facility enables the operator, at the touch of a button, to control operating modes for comfortable and productive operation," he explains.
Doosan's D-Ecopower+ intelligent hydraulic system also ensures increased productivity. The new electronic main pump accurately calculates the amount of pump flow required for each actuator, thereby ensuring faster operation and optimum productivity, as well as preventing unnecessary fuel loss.
Fuel saving technologies include smart power control and a highly efficient cooling system. The smart power control allows the machine to provide optimised control for engine speed and torque, based on different workloads, which reduces unnecessary fuel consumption. This is enhanced by a larger radiator for greater capacity and faster cooling speeds.
On-site safety and improved operator comfort have been an important focus in the design of this new series. New light emitting diode work lights facilitate safe operation after dark and the around-view monitor provides a clear 360° view for the operator from inside the cabin.
An anti-hose burst protection system prevents secondary accidents resulting from a boom or arm-down that may be caused by a sudden hose burst, while the new in-cabin air compressor improves comfort for the operator, by supplying clean air.
A heavy-duty two-stage dust cleaner prevents dust and contaminated particles from causing damage to components, and the standard automatic grease system significantly reduces maintenance time. Holton adds that the electric fuel transfer pump is switched on to re-fill the machine easily after inspection or repair.
Further, for added convenience, the water separator, pre-fuel filter and main filter are grouped together to minimise maintenance time while extending engine life and preventing machine failures. Machine inspection and maintenance are simplified and made safer by having one access point as well as a wider catwalk.
A range of Doosan attachments are included for versatile operation, include hydraulic breakers and various buckets for specific tasks. Holton comments that the X-Class extreme mining bucket is used for high-strength and abrasion resistance materials, while the S-Class severe-duty bucket is recommended for mass excavation in high-density challenging mining and quarrying applications.
These excavators can also be adapted for special applications, Holton points out, adding that there are attachments for unusually long digging reaches, orange grapples and clamshell buckets for material handlers, rotating crushers and multi-processors for high-reach demolition tasks, and straight or V-shape shovel buckets for front shovels tasks.
The Doosan team offers a technical advisory, maintenance and support and spare-parts service through its national branch and distributor network, he concludes.