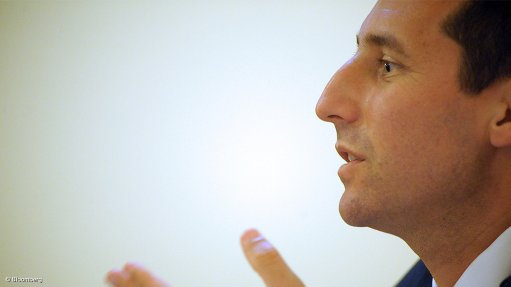 Evolution executive chairperson Jake Klein
PERTH (miningweekly.com) – Gold miner Evolution Mining has reported record profits for the 2020 financial year, on the back of steady gold production and higher achieved prices.
"The 2020 financial year was a great year for Evolution with a strong improvement in safety and sustainability performance, record underlying net profits, record free cash flow generation and record dividends," said executive chairperson Jake Klein.
Underlying net profit after tax increased by 86% on the previous corresponding period, from A$218.2-million to a record A$405.4-million, while earnings before interest, taxes, depreciation and amortization increased by 41%, from A$730.3-million to A$1.02-billion.
Gold production for the full year ended June reached 746 463 oz, down slightly from the 753 001 oz produced in the previous financial year, while revenue for the year increased by 29%, to a record A$1.9-billion, up from A$1.5-billion in 2019.
Evolution said on Wednesday that the higher achieved gold price of A$2 274/oz was slightly offset by the decrease in produced ounces for the full year.
Meanwhile, operating mine cash flow increased by 45% in the full year, from A$771.5-million to A$1.12-billion, with Evolution investing A$371-million in capital during the financial year, compared with the A$273.6-million invested last year.
Total exploration expenditure for the year ended Jun reached A$82.8-million, up from the A$52.1-million spent in 2019, with the majority of the exploration investment undertaken at Cowal, which focused on upgrading the classification of the resource and extending the underground resource, which is now estimated at 2.9-million ounces.
"Through our continued focus on upgrading the quality of our asset portfolio, we expect to deliver exciting organic growth in the coming years, mainly driven by Cowal and Red Lake," Klein told shareholders.
During the year under review, Evolution acquired the Red Lake gold mine, in Ontario, for $375-million and a contingent component of $20-million for each one-million ounces of gold resource inventory added up to a maximum of five-million ounces, outside of the agreed resource baseline.
Since the acquisition was completed in April, the miner has completed extensive modelling work, which has resulted in a mineral resource estimate of 48.1-million tonnes, grading 7.1 g/t gold for 11-million ounces, which Klein said represented a significant upside to the company's initial investment case in the project.
"This 11-million-ounce mineral resource indicates that Red Lake has the potential to be the most transformative, value-creating opportunity in Evolution's history. It is a great example of applying a different lense to an opportunity and emerging with completely different results," Klein told shareholders.
"The next steps will be to complete a new ore reserve estimate which we expect will result in a material upgrade to reserves and will present us with the opportunity to re-imagine the future of the operation. We are very excited about the potential at Red Lake."
Looking ahead to 2021, Evolution is forecasting a group production of between 670 000 oz and 730 000 oz, with all-in sustaining cost expected to reach between A$1 240/oz and A$1 300/oz. Investment in sustaining capital is forecast to be between A$112.5-million and A$137.5-million, with Red Lake accounting for a significant portion of this investment.
Major capital expenditure for 2021 is expected to be in the range of A$260-million to A$290-million, with a further A$70-million to A$100-million being invested in exploration.