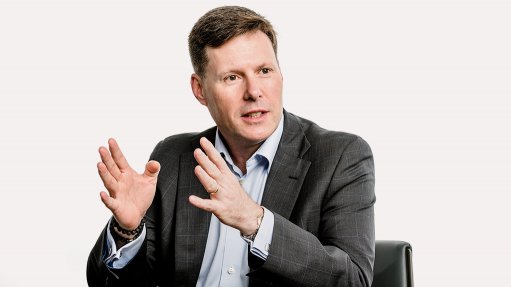 Anglo American CE Duncan Wanblad.
CAPE TOWN (miningweekly.com) – Ever greater acknowledgement is being given to the need to decarbonise global energy and transport systems ever more urgently.
At the same time, ever greater global recognition is being given to the fact that many of the products of mining are fundamental to enabling that shift.
Anglo American CE Duncan Wanblad highlighted this in his address on the opening day of the Investing in African Mining Indaba in Cape Town on Monday, when he spoke of seeing signs of improvement in the macro-economic and geopolitical contexts, including inflation hopefully passing its peak, China re-opening and re-stimulating and a few trade tensions of recent years seemingly being resolved.
Moreover, many countries and industries are waking up to their need for 'critical minerals' – two words that had now entered the broader global lexicon – along with recognition that these must be produced in a way that is environmentally, socially, and ethically sound.
While mining companies are not among the titans of industry operating in the world's largest economies, such as financial services or energy, where the industry does move the needle is in many of the countries that host mineral resources.
"Responsible mining companies in those jurisdictions – and nowhere more so than here on the African continent – are instrumental to the economic and social fabric," Wanblad said at the indaba, which is being covered by Mining Weekly.
"We saw it so very starkly here in South Africa at the outset of the pandemic in early 2020 when our industry made the compelling case for continuing operations in order to preserve the flow of income for our workforce, the flow of supply chains, the provision of so many services in and around mine communities, from schools and hospitals to water and electricity.
"The following year, our industry facilitated a vaccine rollout on an unprecedented scale, supporting the government's own work and ultimately accelerating South Africa's immunity and emergence from lockdowns – all while supporting the country's fiscus at a time it needed it most.
It was an enormous effort in a time of crisis – a proud example of government, civil society and business working together in quick time to solve the most pressing human challenges," said Wanblad.
Looking further back, mining had contributed to the development of many Southern African economies.
"I am reminding us all of this history because it is at the centre of a window of opportunity today in which Africa's mining countries could accelerate their economic growth prospects," he said.
Africa as a whole would account for more than half of the world's population growth by 2050, when some of the population powerhouses elsewhere would have slowed or be in decline.
Together with the continent's abundant mineral resources, there was a golden opportunity to achieve two goals at the same time.
"Firstly, bring those much-needed metals and minerals to market to meet the demand we all see from the global energy transition and a growing and urbanising population; and secondly, to do so in a way that fulfils the economic promise of natural resources, which is too often squandered," Wanblad added.