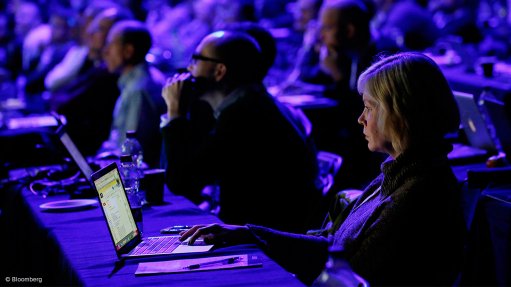 PLANNING PROFESSIONALS The Planning Africa Conference aims to attract more than 500 delegates
Photo by: Bloomberg
Along with the discussions and debates expected from the planning fraternity, special focus on planning as a career path, as well as creating special exposure to planning for university-level students and high school learners, will be the highlights for this year's South African Planning Institute's (Sapi's) Planning Africa Conference (PAC).
The conference, which will run from July 3 to 6 at the Sandton Convention Centre, in Johannesburg, is organised by town and regional planners professional body Sapi, and will be held under the theme Making Sense of the Future: Disruption and Reinvention.
Sapi acting CEO Shurnell Andersson says young people and scholars of all ages attending the conference will benefit from knowledge shared by policy experts and practitioners from sectors including planning and government.
She adds that PAC is the largest planning event on the African continent and attracts on average about 500 delegates.
"The conference theme aims to identify and question current thinking around planning, practices and the regime of planning to ensure that Africa's rise is enjoyed through revolutionary African planning solutions," says Andersson.
She adds that for this year's conference, Sapi has identified a select group of speakers that includes Gauteng Premier David Makhura, Minister in the Presidency Jeff Radebe and African Union Commission chairperson Dr Nkosazana Dlamini-Zuma.
Another focus of this year's conference will be the examination of shifting global trends in planning, the status of technology and innovation, as well as the impact of these on future planning, Andersson says.
"PAC 2016 poses a challenge to practitioners to engage in the development of the industry to ensure its growth and sustainability, in light of these factors."
The PAC aims to promote just and sustain- able spatial development in South Africa and the continent by providing a platform for knowledge exchange, networking and influencing the practice of planning. It also serves to inspire and support young planners, Andersson adds.
The conference includes plenary sessions that cover topical issues by experts, as well as parallel sessions where deliberation over conference papers produced by planners, academics and students will take place.
"This user-driven, bottom-up approach makes the PAC a unique conferencing platform in the sector", says Andersson.
The conference will provide opportunities to explore new ideas, ways of doing things, and processes and practices which have the potential to materially change or are presently changing the way people (especially the poor and alienated) experience, live and contribute to life and play.
"Rapid changes arising from technology, innovation and social and economic exclusion call for all to make sense of the future," elaborates Andersson.
She says the planning profession must keep up with changes and be willing to accept disruptions, as "this brings about a discontinuity in thought, practice and process, but will also reinvent steps in rebuilding the future".
As a result, the conference theme will deal with shaping what can be done when current forms of responses fail to meet current demands.
"While technology and innovations are disruptive, improvements come about in the lives of people. Innovation, value networks and a reshaping of economic and social relations drive the shaping of spatial patterns and forms," she concludes.