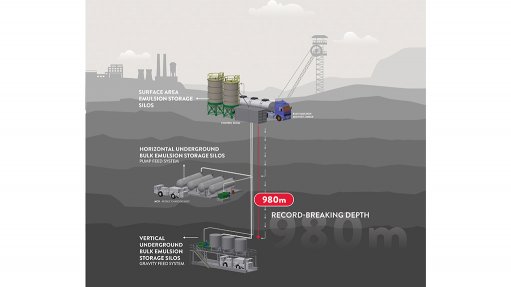 DEBOTTLENECKING DELIVERY The emulsion vertical delivery system contributes to efficiency, as it frees up cage time, consequently enabling mines to not only increase hoisting capacity but also productivity
Mining houses are increasingly realising the value of using emulsions in underground and surface blasting applications, and the addition of an emulsion vertical delivery system (EVDS) further contributes to the ever-growing strategy of improving and increasing productivity and efficiency.
"The inclusion of the EVDS supports this strategy safely and efficiently," says AECI Mining Explosives underground bulk systems GM Hendrik Botha.
The system was developed by the company, predominantly to ensure safety, reduce carbon footprints, simplify logistics and, essentially, improve efficiency at mines.
Without the EVDS, underground mining operations typically use decline transportation from a surface-located collection and/or storage point or they transport filled cassettes underground when lowering materials down a shaft.
"As AECI emulsion technology is classified as Class 5 dangerous goods and not a Class 1 explosive; therefore, emulsion cassettes can be lowered with other materials and do not impact on shaft time. However, this methodology is costly, less efficient and is time-consuming. Delays caused by double handling, cage times and spillages at decanting points are also common," says Botha.
The EVDS contributes to efficiency, as it frees up cage time, consequently enabling mines to not only increase hoisting capacity – the usual bottleneck at most mines – but also productivity. The solution also advances inventory control of emulsion, from surface delivery to the mining working face.
The integrated system directly delivers the base emulsion and sensitiser required to an underground storage facility designed to be in proximity with production areas – a piping system is installed in a borehole connecting the underground storage facility to infrastructure on the surface.
"Although the research and development (R&D) of the EVDS started much earlier, the first EVDS was installed in the Steelpoort area, in Limpopo, in 2009. This was a shallow design that was later followed by deeper drops of about 260 m. We now have six vertical drop systems across Africa, with our latest and greatest achievement the installation of an EVDS at a depth of 980 m at the Chambishi copper mine, owned by Non-Ferrous China Africa, in Zambia, in 2020," highlights Botha.
While the Covid-19 pandemic has had a huge impact on rolling out further EVDSes, AECI is designing two EVDSes for the local market which should be finalised by the second half of this year, and another two EVDSes as part of a new business development planned for the first half of next year.
AECI constantly aims to improve its systems to enhance reliability and efficiency. The integration of R&D, engineering and front-end is critical, as improvements to the EVDS rely on understanding customers' needs and strategy, says Botha.
"Significant focus is placed on engineering and data collection".
Global interest in the EVDS is substantial, as more mining houses realise the value of the system and understand how it can simplify logistics, efficiency and environmental compliance strategies, he concludes.