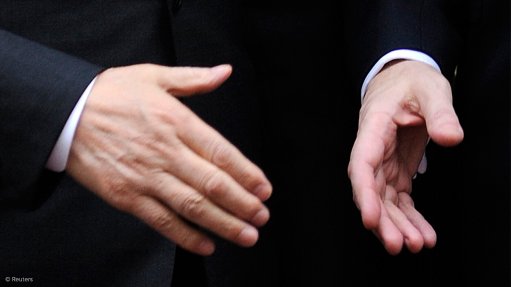 Photo by: Reuters
PERTH (miningweekly.com) – ASX-listed European Lithium has inked a binding term sheet to jointly develop and operate a lithium hydroxide processing plant in Saudi Arabia.
Under the term sheet with Obeikan Group, the two companies will joint venture (JV) with an exclusive right to purchase the spodumene mined from the current resource of the Wolfsberg project, in Austria, with the lithium hydroxide facility to be developed to meet the minimum initial capacity and product specifications to meet a long-term supply agreement with BMW.
Under that offtake agreement, European Lithium will supply 50 000 t of battery-grade lithium hydroxide to BMW, starting in the first year with 5 000 t and 9 000 t each year thereafter. The offtake agreement is expected to start in 2026 and will continue for six years, at which time it could be extended for a further three years.
European Lithium said on Friday that subject to the successful commissioning of the lithium hydroxide plant, the company will sell the lithium spodumene concentrate to the JV company at a reduced rate with a floor price of $3 000/t and a ceiling price of $7 000/t over the life of the current resource of the Wolfsberg mine.
Chairperson Tony Sage said the new facility, once operational, is expected to significantly reduce energy costs and deliver savings in operating costs, in addition to lower capital costs, for operations at the company's Wolfsberg lithium project.
"We are pleased to reach this strategic step in partnering with Obeikan that paves the way for significant opex savings including greatly reduced energy and financing costs, and a much lower taxation rate. We look forward to progressing our plans to harness the latest technology in developing a facility of the highest quality and efficiency, in doing so, strengthening the economics of Wolfsberg and our future projects."
A previously completed definitive feasibility study into the Wolfsberg project estimated that it would require a capital investment of $873-million to support a 8 800 t/y lithium hydroxide monohydrate (LHM) production rate over a mine life of nearly 15 years, with operating costs estimated at $19 409/t before by-product credits.
The study was based on two integrated operations, a mining and processing operation to produce a lithium concentrate and a hydrometallurgical plant to convert the spodumene into battery grade LHM. The hydrometallurgical plant was planned to produce approximately 8 800 t/y LHM with a total production of approximately 129 000 t of LHM over the life-of-mine.