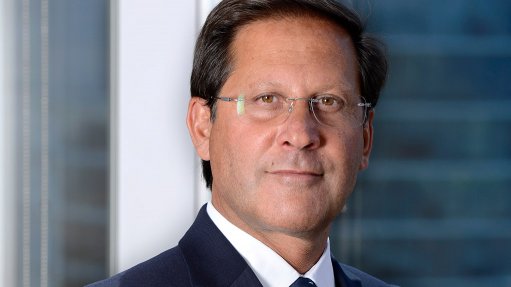 IVÁN ARRIAGADA Antofagasta Minerals is committed to copper, as it is a commodity that the group knows well
Chile-based copper mining group Antofagasta Minerals is currently focusing on bringing its new Antucoya mine on stream, the company tells Mining Weekly.
The Antucoya project, which is about 45 km east of Michilla, in Chile's Antofagasta region, is an oxide deposit, in which Antofagasta Minerals has a 70% economic interest.
Ramp-up to full production capacity of 85 000 t/y of copper cathodes is expected by 2016, and cash costs are expected to be about $1.80/lb for the first five years of full production.
The mine plan includes proven and probable ore reserves of 681.6-million tonnes grading 0.34% of copper (using a cutoff grade of 0.20%) over the 20-year mine life.
Antucoya will be the only major mine opening in Chile this year. "This project is running on budget, with full production expected by the end of the year," Antofagasta CEO Iván Arriagada tells Mining Weekly. Capital expenditure on the development is expected to be $1.9-billion.
Arriagada adds that Antofagasta Minerals has an attractive and diverse asset portfolio in Chile, with a strong pipeline of current and future development projects.
Antofagasta Minerals is also pressing ahead with completion of the expansion of its Centinela Concentrates mine to increase its throughput from 86 000 t/d in 2014 to 105 000 t/d by the end of 2015, and the development of the nearby Encuentro-Oxides deposit in Chile's Centinela mining district.
"The development of the Encuentro-Oxides deposit will ensure our Centinela solvent-extraction and electrowinning processing plant will return to full capacity once mining operations come on stream towards the end of 2016," says Arriagada, adding that this project also opens up the longer-term development of the sulphide deposit that lies beneath the oxides, which will feed the second concentrator at Centinela scheduled for 2019.
"Effectively, the Encuentro-Oxides project acts as a funded prestrip for the sulphides below."
Arriagada further notes that Antofagasta Minerals plans to improve its productivity through innovation, which is something the group constantly works on.
"Bringing automation into our operations and developing new processes have seen strong productivity gains across the group, but, in some areas, there can be no replacement for high-calibre employees.
"As such, investing in the training and development of our staff and contractors is very important," says Arriagada, adding that Antofagasta Minerals actively seeks to attract a diverse, highly talented and competent workforce, which is complemented with training and development.
Chile's Attraction
"The attractions of operating in Chile are very clear to me," Arriagada states, noting that Chile is a mining-friendly country, endowed with a huge resource base, a well-established mining industry, coupled with modern infrastructure and a highly skilled workforce.
"Chile has also been very stable politically and is an Organisation for Economic Cooperation and Development, or OECD, country in which we have been active for over a century," says Arriagada.
He notes that one of the key challenges associated with operating in Chile, is obtaining permits, but says that this is a global challenge that is growing.
He also notes that access to water is a significant issue facing the mining industry in Chile. Although Chile is bordered by a long coastline on one side, and the snow-covered Andes mountain range on the other, access to fresh water is constrained and is a particular concern for miners and the communities.
Antofagasta Minerals goes to great lengths to minimise the impact of its operations, both on the environment and on the local communities with whom it works, says Arriagada.
At the group's Los Pelambres mine, for example, water used by the mine is recycled eight times and, at its Centinela Concentrates and Antucoya mines, Antofagasta Minerals uses an innovative technology, which it has developed to enable the use of raw seawater in its processing, rather than fresh or desalinated water.
Looking Ahead
Antofagasta Minerals is committed to copper, as it is a commodity that the group knows well and one that has a "fantastic outlook", he says, adding that, with this focus, Chile still has a lot of growth to offer.
"We own and operate two world-class mining districts in Chile: Los Pelambres and Centinela, which both have substantial undeveloped resources," says Arriagada.
He states that, for instance, the current operations at Los Pelambres – one of the largest copper mines in the world – have a mine life of 23 years, yet only take into account one-third of the mineral resources available at the deposit.
"We remain active explorers in Chile and the 2014 upgrade of 1.3-billion tonnes of mineral inventory to resource category at Los Volcanes demonstrates the potential that remains in the country," Arriagada tells Mining Weekly.
Further, beyond Chile, Antofagasta Minerals has an international portfolio of early-stage exploration interests. The group's strategy is to partner with experienced junior exploration companies, funding their programmes and benefiting from their local knowledge and expertise.
"Earlier this year, we were able to consolidate our ownership of the Twin Metals project, in Minnesota (US), and we are looking to progress the development of this project in the coming years," he says.
The group continues to evaluate acquisitions in Chile and internationally. However, Arriagada says there is strong competition for the few attractive copper assets that do come on the market. "We have to maintain our discipline to ensure we strike a careful balance between securing future supplies and safeguarding shareholder value," he concludes.