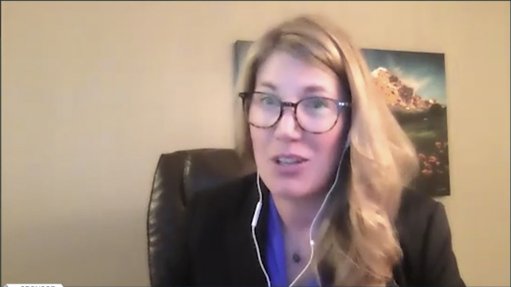 E3 Metals Corp Corporate Affairs & Exploration VP Liz Lappin
The factors of environment, social and corporate governance (ESG), now more than ever, are critical to move away from fossil fuels and towards energy efficiency, a panel of experts concurred at a major Canadian mining conference on Tuesday.
Speaking during the 2021 edition of the Prospectors and Developers Association of Canada's (PDAC's) yearly conference, lithium miner E3 Metals corporate affairs and exploration VP Liz Lappin said that ESG was something she thought about daily. Operating in Canada provided a good backdrop to how ESG should be built into mining operations, as the country was considered a leader in human rights, the environment and democracy.
Panel moderator Invest in Canada CEO Ian McKay stated that ESG was no longer a buzzword, but instead defining how shareholders, boards, management and customers around the globe wanted products to be developed.
"The evolution we have seen over the past few years is that environment and the economy are now more entwined than ever. ESG is part of competing with others going forward and being part of a net-zero world," says Lappin.
Vale Canada CEO Mark Travers noted that ESG was also discussed daily at the company and, as a result, was becoming an intricate part of the diversified major's strategy going forward.
He added that Canada was a safe, well-regarded and well-regulated mining jurisdiction. ESG is something that automotive vehicle manufacturers, especially those making electric vehicles (EVs), are very carefully considering when sourcing raw materials.
EV AMBITIONS
In terms of EV development and how Canada could play a critical role in the supply of raw materials for batteries and electric components, Travers pointed out that there was "a great opportunity" for the country. However, a lot of work still had to be done, with decisions needing to be made soon to ensure that the nation remained ahead in the EV development race.
"Canada has all of the critical minerals needed to manufacture the latest generation of batteries. We also have the industry that has the background and science [required to further EV development]," he says.
Rio Tinto corporate relations VP Todd Malan said Canada had high standards for battery mineral development, with the right geology and people, as well as modern capabilities in bulk processing capability, mining and exploration.
"These high standards will correlate into expectations of downstream consumer companies who want to ensure their supply chains are incorporating things that were manufactured at very high standards."
Malan added that high standards would also add value to individual end-user consumers who were increasingly looking for reputable ESG credentials. "Consumers want to be empowered with more information about how inputs were made and their [buying power] in a sustainable future."
Lappin, meanwhile said that factors such as the new Joe Biden administration in the US and the European Union doubling down on ESG in supply chains, would serve to accelerate growth of the EV and battery metals sector. "That impact in the industry is resulting in some tailwinds with strong EV sales, new models coming out, prices decreasing and battery performance increasing."
First Cobalt CEO Trent Mell echoed that the Biden administration had made ambitions to achieve carbon net-zero goals more real.
He also said that recent reports had aired ambitions of 23% growth for EVs over the next decade. "That is not a surprise to me. There is more than $300-billion going into the battery supply chain. With the new [Biden] administration, and promises of about 500 000 charging stations [in the US], switching over the US [vehicle] fleet, re-joining the Paris Climate Accord – I think [a lower emissions future] is starting to feel more real in North America."
However, Mell also pointed out that a shift away from internal combustion engine vehicles had been slow in North America, because most of the latest EV models had not been the type of vehicles preferred in the North American market – such as sports utility vehicles, big-block sports cars and pickup trucks.
Going forward though, he said these preferred models were finally starting to arrive on North American shores, including an electric Hummer and electric versions of Ford's F-150 and Mustang.
"All the larger vehicles we want in North America are now a possibility because of larger battery packs that are providing distances equal to their gasoline alternatives," Mell enthused. "All the issues we have around size and range anxiety are being dealt with."