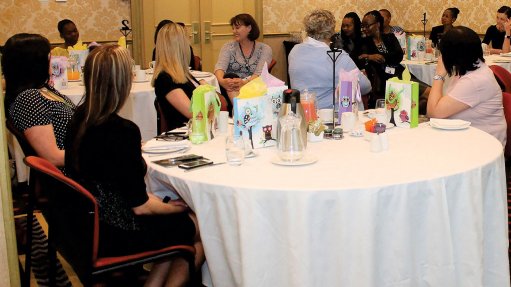 The mining industry is largely accepted as being predominantly male dominated. As more women join the sector and occupy leadership roles, the importance of empowering women in the workplace becomes even more crucial. Epiroc, a leading partner in mining solutions, has recognised the growing need to support women in the workplace, especially in leadership roles, for the overall growth and sustainability of a well-rounded and productive environment.
In partnership with Atlas Copco, Epiroc collaborated with Swedish Workplace HIV & AIDS Programme (SWHAP) to host a 'women empowerment' conference held at Emperors Palace, Johannesburg towards the end of 2018.
On the morning of the event, female leaders from Epiroc, Atlas Copco and numerous other companies eagerly gathered to partake in the day's activities. "Epiroc is passionate about promoting and supporting women empowerment," states Regional Communications Manager at Epiroc, Kathryn Coetzer. "We strongly encourage women, both within and out of management positions, to motivate one another to reach for their goals and achieve success in the workplace."
The breakfast session was officially opened by Mary Kgole, SWHAP Regional Coordinator RSA & Namibia, who welcomed attendees and provided a brief introduction of SWHAP which is represented in eleven countries in Sub-Sahara Africa. "As a global initiative created and funded by the Swedish government agency, SIDA (Swedish International Development Cooperation Agency), SWHAP supports Swedish and non-Swedish workplaces to initiate and implement workplace HIV and wellness programmes," states Kgole.
According to Kgole, the purpose of the conference is to create a platform that supports women in the workplace so that they can be empowered to move up in roles, give each other guidance on how to deal with issues affecting women in the workplace, create a rightful position for women in the office and above all, provide each other with support.
In line with these sentiments, Kgole invited two students from UNISA (University of South Africa) to gain motivation from the female leaders as well as to obtain guidance and support to assist with their future careers.
Placing emphasis on how to create a movement in women leadership, Kgole highlighted various key points in her presentation: Gender issues within a company is acknowledged as the first step towards creating awareness and the new focus of gender mainstreaming in the workplace is assisting in addressing issues such as sexual harassment, gender-based violence etc.
Kgole also pointed out that networking groups can be an efficient method to meet valuable contacts and gain ideas. She added that female-only networking groups go the extra mile to provide a space for gender issues and equality to be discussed without judgement.
Next on the women-empowerment agenda, Coetzer welcomed guest speaker, Dr Renate Volpe. During her inspiring presentation, Dr Volpe focused on women in leadership and corporate politics, held project and partnership discussions and provided the attendees with networking opportunities. Wrapping up, Dr Volpe advised the women to remain positive, to identify their strengths by also differentiating between feminine and masculine strengths, and to deliver effectively in the workplace.
Extremely positive feedback was received from conference attendees including Yolande Alberts, Business Controller at Atlas Copco Industrial Technique, "I found that the discussion on different personalities was very interesting. This will help me not only at work but in my life at home as well.
Thank you to Epiroc for inviting me, it really added so much value to my life." More positive feedback was received from Mpho Matshane from Babcock Nthutuko, "The session has really inspired me to push harder in a predominantly male-dominated environment. With the support and encouragement from women in a similar space, I feel I can conquer and break the glass ceiling."
"The importance of promoting women in leadership roles cannot be underestimated or overlooked. We hope that the attendees have gained valuable knowledge which will assist them to shape their future career paths. Epiroc is proud to have co-sponsored this conference which celebrates and empowers women in the workplace," concludes Coetzer.