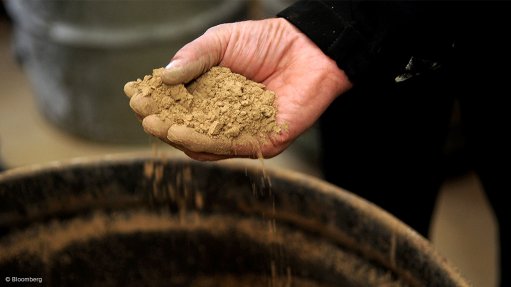 Photo by: Bloomberg
PERTH (miningweekly.com) – The Western Australian Environmental Protection Authority (EPA) this week granted environmental approval for rare earths producer Lynas to develop its rare earths processing facility.
Lynas is proposing to construct and operate the plant on Great Eastern Highway, about 7 km from Kalgoorlie-Boulder. The project will process rare earth concentrate sourced from Lynas' Mt Weld mine, about 380 km north of Kalgoorlie, to produce rare earth carbonate for export through the Fremantle port.
EPA chairperson Professor Matthew Tonts said air quality, human health and social surroundings were among the key considerations during the environmental impact assessment.
"The EPA has recommended a native vegetation buffer at least 30 m wide to screen the facility from residents and the city's entrance along Great Eastern Highway," he said.
"Conditions have also been recommended for waste management to ensure the proponent disposes of waste to an appropriate location at its Mt Weld mine or finds an alternative use for the process-derived waste."
Lynas plans to return waste from the processing facility to Mt Weld for disposal, while the rare earth carbonate produced for export will be packaged in closed containers and transported by rail to Fremantle.
Lynas on Friday reported that sales revenue for the quarter ended September had dropped compared with the June quarter, on the back of lower production.
Total rare earth oxide production for the three months to September reached 3 166 t, down from the 3 778 t produced in the June quarter, while neodymium-praseodymium (NdPr) production declined from 1 393 t to 1 255 t.
Sales revenue for the quarter declined from the A$185.9-million reported in the June quarter to A$121.6-million.
CEO Amanda Lacaze told shareholders that strong demand from the magnet market and increased market pricing for NdPr continued as economies recovered from the pandemic. Invoiced revenue for the quarter was A$121.6-million, the second highest quarterly result recorded for Lynas.
She noted that while some 99% of staff and contractors in Malaysia were fully vaccinated, increased Covid-19 case numbers on the Kuantan area during the September quarter resulted in the cracking and leaching plant being partially or fully shut down for 11 days owing to the unavailability of personnel who were required to isolate.
"We were able to utilise this time for major maintenance programmes. Product finishing of non-NdPr products was also shut down for 16 days during the period as we prioritised NdPr production with available personnel. The pandemic continued to affect logistics, with delays in both inbound and outbound shipments affecting availability of key production inputs and finished product deliveries.
"Despite these challenges, the team managed to maintain NdPr production at 70% of Lynas NEXT capacity," she added.
Lacaze noted that work on the Lynas 2025 foundation projects continued during the period, including procurement and minor and preliminary works at the Kalgoorlie rare earths processing facility, as approved by the EPA in March. Concrete pads were installed on site to enable the delivery of the kiln shell, which is being shipped from Europe and is expected to arrive in Western Australia in November.