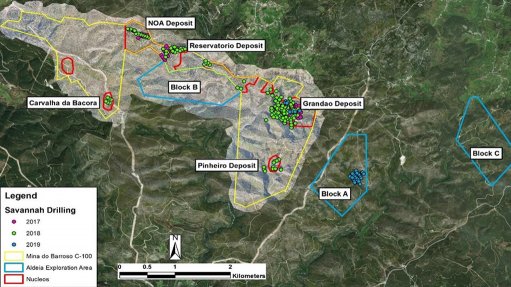 TRANSITION-ENABLING PROJECT This project is vital for an effective transition to clean and sustainable energies for Portugal and Europe
Lithium miner Savannah Resources is exploring several technology options to reduce carbon emissions from the company's Barroso lithium project, in northern Portugal, once operational. This includes using solar and wind power, as well as electric trucks.
"We also have plans in place to restore the landscape and leave it in a better state than when we found it," says Savannah Resources interim CEO Dale Ferguson.
He says lithium spodumene is the lithium mineral traded most often globally, and that it is transported over vast distances – from production points to markets.
With the Barroso lithium project, however, Savannah Resources will transport spodumene over shorter distances in Europe, primarily focusing on distribution in Portugal, consequently resulting in a significantly reduced carbon footprint when compared with spodumene produced in, for example, Australia, Africa or South America.
"We are continually exploring options for reducing our Scope 3 emissions, which will include encouraging our partners to use low- or zero-carbon-emitting vehicles to transport spodumene from the project," he adds.
Ferguson highlights that Savannah Resources initiated a decarbonisation strategy in 2020 that will continue to evolve as the Barroso lithium project progresses.
To date, Savannah has announced partnerships with Tier 1 European specialist groups, such as Quadrante, Ecoprogresso and ABB, with Ecoprogresso's carbon dioxide emissions study in the environmental-impact assessment in March 2020, estimating maximum yearly emissions of 96 200 t.
Decarbonisation
Ferguson also highlights three decarbonisation options that Savannah will explore thoroughly to decide the most viable option to reduce carbon emissions.
The first strategy focuses on power system decarbonisation using renewable-energy sources coupled with battery storage; renewable-energy power purchase agreements; and renewable-energy proportion increases in the grid mix to reduce emissions.
The second strategy focuses on decarbonisation of equipment, specifically mobile and stationary equipment electrification, process efficiency improvements, digitalisation and automation, and biofuel or green hydrogen-powered transport equipment.
The third involves leveraging environmental strategies and incentives such as carbon credits, forestation and the circular economy.
Further, Portugal's existing infrastructure also adds to the Barroso lithium project's potential for sustainable operations, as Portugal currently obtains about 60% of its electricity from renewables.
Savannah Resources will use predominantly renewable energy from the Portuguese electricity grid to power the Barroso lithium project, while investing in renewable-energy projects in Portugal to replace the electricity consumed.
Project Progression
In July, environmental agency Agência Portuguesa do Ambiente (APA) determined that the project's EIA had to move into the Article 16 phase – an intermediate and optional step designed to allow for adjustments to the project in accordance with stakeholder feedback.
While no updates on the progress of the definitive feasibility study (DFS) have been announced, Savannah continues to work on the various submissions for the study to ensure readiness to accelerate, subsequent to APA's decision on the EIA.
Ferguson adds that the Article 16 process has a fixed timeframe, including up to six months for optimisation and resubmission, in addition to 50 working days for review and a decision by APA.
"Before Article 16, we were targeting first production in 2025. However, we are now expecting first production in 2026."
Ferguson also emphasises the positive social and economic impact the Barroso lithium project should have on the Boticas region, and the local communities, as well as the country, with an investment of more than €110-million in the region, in addition to the creation of 215 direct jobs and 500 to 600 indirect jobs, and the development and creation of new business.
The potential lithium production at the Barroso lithium project equates to 500 000 electric vehicle (EV) battery packs a year, the equivalent of 12.5% of the expected four-million EVs expected to be produced in Europe in 2025.
"This project is vital for an effective transition to clean and sustainable energies. This is a decisive project for the sustainability of Portugal and Europe. The social gains include the investment, the development and mitigation measures," Ferguson concludes.