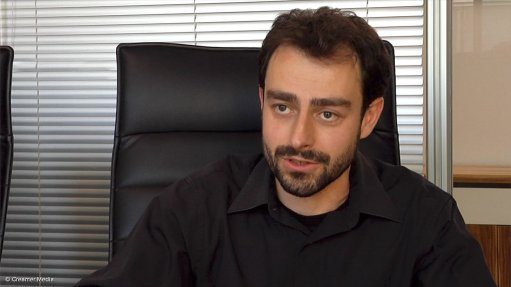 Bushveld Energy CEO Mikhail Nikomarov
Photo by: Dylan Slater
JOHANNESBURG (miningweekly.com) – With about 650-million people in Africa currently without access to electricity, Bushveld Minerals subsidiary Bushveld Energy CEO Mikhail Nikomarov believes the solution lies in area-specific solutions.
He explained in an interview with Mining Weekly Online that a solution needs to be an energy-intensive one, which he says can be found in adopting vanadium redox flow battery (VRFB) technology in renewable energy applications.
"We've got a situation in the world where urbanisation is increasing and, yet, we're starting from the least urbanised areas in the world to provide access to electricity," he pointed out, suggesting that, with Africa's immense solar radiation levels, the answer lies in a localised solution, which can be achieved with wind, solar and even hydropower plants.
However, he warned that a quality energy delivery system cannot be successful without storage that equalises the power distribution and bridges the gaps in power generation.
VRFB technology combines the performance advantages of flow batteries with vanadium and uses a liquid electrolyte to store energy.
This, Bushveld Energy said, allows for near unlimited recharging and easy scaling by just adding more electrolyte. It also results in negligible performance deterioration over long periods of time.
As a result, for daily energy storage of a few hours or more, Nikomarov pointed out that flow batteries provide the most cost-effective means to store energy. The advantage of vanadium, in particular, lies in its ability to exist in four different oxidation states and its water-solubility, allowing for a simpler battery with fewer inputs and an easy recyclability of the vanadium, which he explained leads to a significant vanadium value.
Another benefit of the technology is its inherent safety, Nikomarov added, explaining that it is because it does not have the risk of thermal runaway, which leads to fire and smoke in lithium-ion, or lead acid, batteries.
Developing the VRFB technology has placed Bushveld Energy in a unique position to deliver energy storage solutions across Africa, he elaborated, as the company is building up its capabilities to develop the VRFB solution based on vanadium mined from sister company Bushveld Vametco Metals, in Brits.
The battery, supplied by UniEnergy Technologies, will have a peak energy of 450 kWh.
Additionally, Bushveld Energy is also increasing its capacity to manufacture the most expensive component for VRFBs – the electrolyte – at a plant in the East London Industrial Development Zone, once an environmental-impact assessment has been completed.
"Together, by developing the project and also eventually producing the systems here, we can have [an] African solution for the African market," he said.
The VRFB solution, Nikomarov further explained, will present South Africa with an opportunity to "springboard" the solution to the international market, making it an export-oriented product at completion.
The African continent, as well as the Middle East, and India, are among the first global geographies that are being targeted for supply of the VRFBs from a South Africa-based supply base and supply chain.
With the potential VRFB market valued at an estimated $70-billion, according to Bushveld Minerals' latest annual report, about $10-billion of this can be realised locally on a yearly basis, Nikomarov pointed out.
While not all components will be manufactured in South Africa, depending on where the battery will be exported to, he explained to Mining Weekly Online that this will have an impact on the cost-effectiveness of the battery, as some "things are going to be cheaper to procure in India, for the Indian market, for example".
However, with a life expectancy of about 20 years per battery, Nikomarov noted that the market is currently experiencing growth in the adoption rate of such technology, with the market life expected to be about 30 years before slowdown.