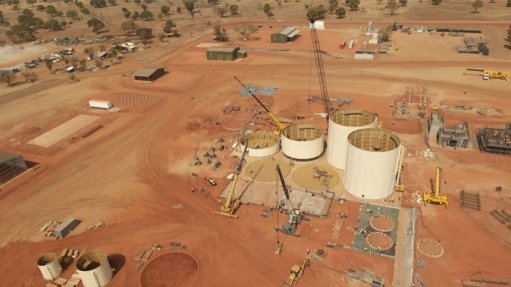 Endeavour's Houndé mine, in Burkina Faso
West Africa-focused gold miner Endeavour Mining is confident that it can deliver against the capital allocation priorities it set for the year, which are geared toward funding growth and maintaining an attractive shareholder returns programme.
The company has already returned $644-million to shareholders since the launch of the programme in 2021, comprising $400-million in dividends and $243-million in share buybacks.
In the quarter ended March 31, Endeavour's share buybacks amounted to $11-million.
To further minimise shareholder dilution, Endeavour settled the principal of its $330-million convertible notes in the quarter under review.
The company also remains on track to achieve the full-year production target it set for 2023, at between 1.32-million and 1.42-million ounces, although production will be weighted towards the second half of the year, owing to mine sequencing across the group.
Endeavour produced 301 000 oz of gold from its Boungou, Wahgnion, Mana and Houndé mines, in Burkina Faso; the Ity gold mine, in Côte d'Ivoire; and the Sabodala-Massawa mine, in Senegal, in the reporting period.
This compares with the 355 000 oz of gold produced in the quarter ended December 31, 2022, and the 357 000 oz produced in the quarter ended March 31, 2022.
This generated adjusted earnings before interest, taxes, depreciation and amortisation (Ebitda) of $279-million, which is lower than the adjusted Ebitda reported for both the last quarter of 2022 and the first quarter of 2022, at $288-million and $391-million, respectively.
Net earnings attributable to shareholders of $4-million for the first quarter of 2023, as well as adjusted net earnings of $70-million, were up 8% compared with that of the fourth quarter of 2022.
Endeavour ended the first quarter with $810-million of cash on hand and $285-million in available funding.
Meanwhile, the company confirms its Sabodala-Massawa expansion and Lafigué greenfield build are progressing well, with both projects on time and within budget. First production is expected in the second and third quarters of next year for the two projects, respectively.
Once the company's organic growth projects are complete, it aims to increase shareholder returns.
On the exploration front, Endeavour's drilling on the Tanda-Iguela discovery in Côte d'Ivoire continues to demonstrate itself as a cornerstone asset. The company intends to publish a resource update later this year and continue with a planned $70-million exploration programme focusing on the Tanda-Iguela target.
Endeavour aims to discover 15-million to 20-million ounces of indicated resources over the five years between 2021 and 2025, at a low discovery cost of less than $25/oz.