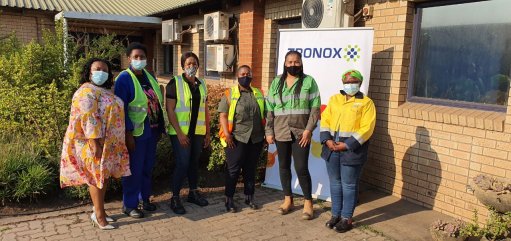 In line with this commitment, our South African operations pledge to go beyond the transformation guidelines set out for the mining sector, with a strong focus on the development and empowerment of black women-owned businesses as well as youth-owned businesses.
Tronox recently awarded four black women-owned construction companies, namely Nomuntu Construction, World Focus, Getgate Projects and Mccoormallo65 Trading, contracts to build a total of 23 houses with the aim to assist destitute, child-headed families and restore their dignity by providing them with decent housing and, in the process, empowering women-owned businesses who create temporary job opportunities for the locals.
Through community engagement, the female contractors were identified as historically underprivileged groups with the capacity to successfully complete the contracts awarded to them in 2021. While the beneficiary community is the main target group, the wider local community will benefit from the increased economic activity.
"For Tronox South Africa, women empowerment is a business imperative. We are, therefore, committed to radical transformation, constructing and driving the agenda for change, through sound business practices, ethical behaviour, and robust supply chain operations," said Tronox South Africa Regional Supply Chain Director Lee-Ann Govender.
Tronox takes cognisance of the challenges faced by small businesses and first-time vendors within the operations and therefore we have created a supportive and collaborative culture to nurture and ultimately grow these businesses. Tronox have assisted them by providing shorter payment terms, unbundling of contracts and the successful implementation of an Enterprise and Supplier Development programme aimed at contributing to their development, sustainability, and financial independence of small businesses.
"Through continuous engagement with our stakeholders, we have managed over the years to create an environment which is conducive for us to do businesses in harmony with our local communities. We have become, and continue to be, a yardstick for success amongst our peers," said Tronox South Africa Regional Manager for Communities and Corporate Affairs Nozuko Basson.