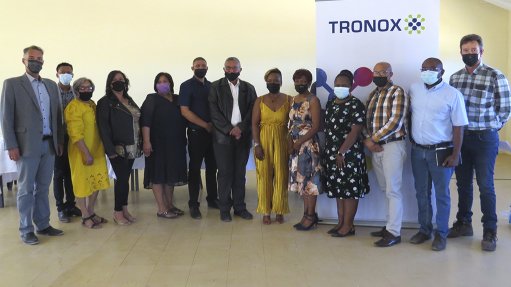 The Tronox Mineral Sands operation, situated in the Western Cape, mines and beneficiates heavy minerals to produce titanium dioxide feedstock (chloride and sulphate grades), zircon, rutile and high purity iron products.
On October 19 and 20, 2021, Tronox Mineral Sands, in collaboration with the Matzikama municipality and other mining companies operating in the municipality, officially handed over local economic development projects to the community beneficiaries. These projects aim to encourage sustainable development and empowerment of community members within the Matzikama municipality.
One of the projects that was handed over is the Matzikama Business Centre. This is a R3-million investment for which Tronox Mineral Sands will be disbursing funds over the next three years. The centre was established with the aim of developing small, medium and micro enterprises to build entrepreneurial development systems, facilitate and provide training and mentorship, and to address challenges faced by prospective and existing small businesses in the Matzikama area. Also on the list of projects was the Lutzville Early Childhood Development Centre which received R600 000 towards the establishment of an aftercare facility for children in the Uitkyk, Lutzville area. A further investment of R2,8-million was allocated to the construction of the Lutzville West Sports Ground.
Lastly, Tronox Mineral Sands contributed R1.4-million in partnership with Trans Hex Group to construct the first community hall in Papendorp. Executive Mayor of the Matzikama Municipality, Mathilda Bains expressed her gratitude to the mining companies and Department of Minerals Resources and Energy for working together to fund the construction of the community hall and urged the community to take ownership of the building and look after it to pave the way for further progress in the community.
Tronox is committed to addressing the socio-economic challenges of its communities, which is a testament to their values. "Jobs are created for generations to come, benefiting families and empowering communities by partnering with industry stakeholders to leave a legacy we can be proud of. We will continue to honour our responsibility to create value for all our stakeholders in the areas in which we operate," said Tronox South Africa Regional Manager: Community & Corporate Affairs Nozuko Basson.
"Investing in education and infrastructural development creates a path for the leaders of tomorrow, business leaders and capitalists of the future. It is important to talk to sustainability focusing on developing local economy, rehabilitation of our environment after mining and enable projects that allow for the facilitation of social development services for the communities," said Department of Minerals Resources and Energy Chief Director Rabone Nkambule.