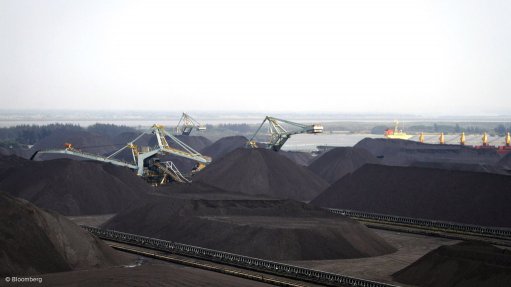 LEGISLATION DERAILING Rail infrastructure is crucial in Africa and South Africa, but can only be finalised once legislation surrounding independent power producers is finalised
Photo by: Bloomberg
Power generation stakeholders and key industry players are investigating ways of deriving the most benefit from lower coal qualities, says independent mining advisory company Ukwazi senior mining engineer Adriaan Strydom, who tells Mining Weekly that companies are implementing new technologies to generate electricity from lower-quality orebodies.
South Africa has a mature coal-mining history, with coal generation capacity and infrastructure already developed across the country; therefore, mining companies now need to revisit how best to use specific orebodies that have been identified as viable for electricity generation, he points out.
Strydom further predicts that thermal coal will remain a critical source of power generation in Africa, currently and in the near future. There is a significant "investment appetite for independent power supply" and the opportunity to export electricity northwards from countries, such as Mozambique and Botswana, adds to the significance of thermal coal in South Africa, Strydom explains.
He says there is ample opportunity to export electricity across Africa, with predictions estimating the continent's population to grow significantly in the next 30 to 40 years. Intergovernmental organisation the United Nations has predicted population growth rates in Africa will at least double from 2017 to 2050. "That in itself provides an opportunity for the coal sector to expand," Strydom says, adding that, together with renewable-energy sources, coal-fired power supply is going to remain an important part of the continent's energy mix.
Costly Rail Constraints
Ukwazi director Jaco Lotheringen tells Mining Weekly that, as coalfields are depleted, appropriate-quality coal sometimes needs to be moved to different power stations, as power stations are developed for a certain coal feed specification. Therefore, some power stations rely heavily on road transport, as a lack of rail infrastructure to transport coal presents a constrictive and capital-intensive challenge for Africa.
Mines that have smaller orebodies do not have the economies of scale to justify using more effective logistics, such as rail, and subsequently use road transport, which is expensive, less reliable and has a major impact on road infrastructure, he explains.
However, Lotheringen also notes that, once operational, independent power producers (IPPs) will be able to generate coal-fired power and feed it directly into the grid, significantly reducing the need for extensive rail infrastructure in Africa.
Strydom concurs, but notes that Lotheringen's argument that the need for rail infrastructure will become less urgent will become relevant only once regulations regarding IPPs are fully implemented.