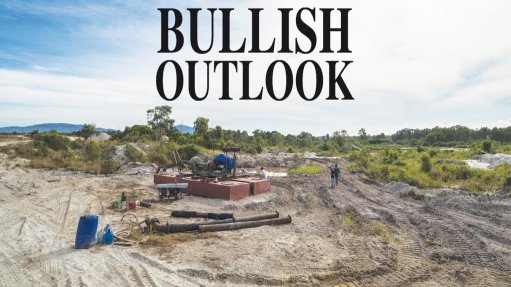 The global tin market has entered what has been described as an interesting phase with the diversification of applications in existing and new technologies, amid market dynamics that are shaking stability in the short term.
It has been predicted that tin, which has long been prized for its application in solders and traditional lead-acid batteries, will be most impacted on by the development of future technologies.
"Tin's extensive use in solders (which are heavily used in the consumer electronics industry) makes it the metal that glues the technology revolution together, and new applications, such as in emerging lithium-ion batteries, tend to grow as technology advances and diversifies," says research and consultancy firm Roskill.
This means there will be significant opportunities for the tin market's growth, which could exacerbate an already present demand-supply gap.
The market has faced a consistent supply deficit in recent years and it is forecast that the global tin market will likely remain in deficit to 2022.
This prolonged deficit has resulted in an upsurge in investment by many juniors aiming to bridge the gap with a feasible project at a price point of about $20 000/t.
According to the World Bank's monthly commodities price data, tin reached an average price of $21 393/t in March, with the bank's April outlook report showing that the tin price posted the largest increase among base metals in the first quarter of this year, rising 9.9% quarter-on-quarter and largely reversing declines in the two preceding quarters.
However, a surprise price plunge led to a three-year low later in April, leaving the market unsteady and uncertain – sparking many majors to cut production.
The price dropped further to a low of $16 609/t in August, and remained steady at $16 831/t in September.
"The market had a good start in 2019, with tin prices going over $20 000/t, after underperforming in the second half of 2018," states Roskill tin analyst Renata Barros.
Despite experiencing pricing pressure and supply dipping into a surplus, which does not bode well for current and future supply, the tin market is expected to stabilise in the final quarter of the year.
With existing uses and demand for tin expected to climb 2% a year, the tin market maintains a bullish outlook, with prices expected to recover, despite the current bear market dynamics playing out in the background, International Tin Association (ITA) market analyst James Willoughby notes.
"We forecast this trend to continue as a baseline. On top of this, miniaturisation of electronics, which has been causing tin use in solder to remain relatively flat, despite a booming electronics market, seems to be coming to an end outside China, and is nearly the bottom of the curve inside China," he continues.
Tin use in solder is expected to increase at the same rate as the electronics industry's growth – which has typically been about 5% – from 2025.
Solder continues to be the main use of tin, contributing 47% of tin demand, followed by chemicals, at 18%, and tin plate, at 14%.
Further, new technologies and their applications, including fifth-generation technology and the Internet of Things, as well as electric vehicles (EVs), are all extremely positive developments for future tin demand.
An increase in tin demand is inevitable, avers Kasbah Resources CEO Evan Spencer, noting the growth in key technology areas such as EVs, corrosion- resistant steel, photovoltaic cells, renewable energy, semiconductors, solder, batteries and advanced automation and robotics.
"There continues to be ongoing research capitalising tin's electrochemical properties for use in lithium-ion batteries, as well as other battery technologies, which could have a significant impact on tin demand in the medium term," he adds.
The EV and plug-in hybrid EV revolution is also expected to have a significant impact on tin demand, with up to seven times more tin required for EVs than for their hydrocarbon-based counterparts, owing to increased electronics.
"The outlook for the tin market is positive, overall, for the near future. The growth is linked to factors such as an increase in penetration rates and product diversification for consumer electronics, projected positive trends for the construction market, and the growing intensity of tin use in lead-acid batteries substituting antimony," Barros highlights.
However, in the short term, there is weakened demand for tin on the back of weakness in the consumer electronics industry, compared with 2018, as well as downward pressure on prices stemming from deteriorating macroeconomic sentiment and US-China trade tensions, adds Fitch Solutions commodities analyst Alex Lopez.
Market Dynamics
The tin market's recovery started early this year, with prices passing $20 000/t for the first time since July 2018, owing to growing US-China trade hopes and stocks hitting a record low, Roskill assesses.
"Tin prices are still relatively stable by historical standards, with variations not nearly as large as those observed between 2012 and 2014.
"A few reasons for that could be London Metal Exchange (LME) stocks reaching a record low in 2018 and 2019, favourable macroeconomic factors and, perhaps most importantly, the expected increase in demand," explains Barros.
Kasbah marked LME tin inventory at the start of the quarter at 950 t, reaching a low of 740 t before a sudden increase, reaching a high of 6 401 t at the end of the quarter.
"Much of this [earlier] price increase was because of the market deficit we were seeing at the time; in the first quarter, we estimate that there was an [estimated] 8 000 t deficit, primarily owing to the issues surrounding refined tin exports from Indonesia," says Willoughby.
Fitch reports that tin inventories fell globally, in line with the tin supply deficit the firm had been estimating in the market.
"Over the second quarter of 2019, the market began to see rising tin exports from Indonesia and falling demand from the consumer electronics industry, which has, overall, led to a shrinking supply deficit over 2019," Lopez notes.
After emerging in 2014 as a major tin concentrate supplier to China, Myanmar has for the past few years experienced an output decline.
Further, tin output from large producers in Asia and South America is slowing, owing to the "exhaustion of deposits and falling mine grades", which is impacting on global output.
"[The] US-China trade tensions do not affect much of the tin market directly, as there are no tariffs directly on solders, but it is affecting the next layer of applications, such as electronics, as well as consumer confidence, and, therefore, the price," explains Willoughby.
Newswire Reuters outlined how the prolonged trade dispute between the world's two largest economies, the US and China, has led to deteriorating prospects for demand from electronics companies, as well as the chemicals and battery industries.
Willoughby says the lower prices are affecting tin mining projects in the pipeline, as, in general, these projects use tin prices closer to about $20 000/t for their economic feasibility studies.
"At current prices, many investors do not see these projects as feasible.
"In response to the falling price, many of the major producers have announced that they will cut production this year," adds Willoughby.
Reuters notes that estimates of global tin supply this year ranged between 350 000 t and 380 000 t; however, about 8% of supply is set to be removed from the market.
This has helped to support the price slightly, but the market is still in surplus, and, so, the general sentiment on price is still bearish, he adds.
Barros notes that the reaction from large Chinese refined tin producers was to announce, in September, a cutback in production and this is likely to drive price stabilisation for the remainder of the year.
Future Outlook
For the rest of this year, much of what will happen to the market depends on the macroeconomics, says Willoughby.
"In the medium to long term, we are quite bullish on the prospects for tin demand, especially in emerging technologies.
"Despite the uncertainty, we are starting to see some signs of a demand recovery; Chinese white goods production, which is a significant market for tin, is growing between 5% and 10%; global manufacturing Purchasing Managers Indices, excluding the European Union, while low, appear to be stabilising, and this may be the bottom of the curve."
He indicates that the tightness may return to the market in the fourth quarter, owing to a combination of the production cuts and returning demand as consumer stocks run down.
"The tin market deficit is expected to continue in the medium term, with increasing demand not adequately addressed by the new supply, which would inevitably result in a rising tin price."
Fitch expects a price weakness in the tin market for the remainder of 2019.
"We do not expect the tin demand narrative that we have seen over 2019 to change drastically for the rest of this year, as we expect demand from the consumer electronics industry to remain relatively weak over the fourth quarter of 2019, compared with the fourth quarter of 2018."
Lopez outlines that the tin supply cuts in China and Indonesia should "place a floor underneath prices" as it feeds into the market, providing some upside above spot levels as this happens.
"Over 2020, we are more optimistic on demand from the consumer electronics industry increasing, which should push prices higher. We continue to believe prices will rise through 2021 to average $20 000 as fundamentals tighten and the market deficit continues."
However, the ongoing impact of global trade tensions on electronics manufacturing and Chinese economic growth will keep the tin consumption outlook challenging for now, while the South Korea-Japan trade dispute will create hurdles for South Korean semiconductor manufacturers, which could weigh further on electronics manufacturing and, thus, demand for tin.
"Our view for the outlook for tin remains positive. Although the tin price has seen short-term pressures, the medium-term price outlook remains strong, with mine supply continuing to face challenges, and demand continuing to outpace supply, resulting in a global deficit of tin," Spencer adds.
Although production of the world's largest tin concentrate producers, Indonesia and China, is likely to remain stable in the next year, mining in Myanmar looks set to decline as mining costs increase.
New sources will need to come on line to make up for the loss in tin concentrate from Myanmar.
The ITA believes that, with the long-term degradation of ore grades at established mines and increased mining costs, projects such as Alphamin's Bisie and Afritin's Uis are important to the global supply of tin concentrate.
With a final design capacity of 9600 t/y and 5 000 t/y, respectively, Bisie and Uis represent a significant boost to the tin concentrate market. Both projects are on course to be completed in 2019.