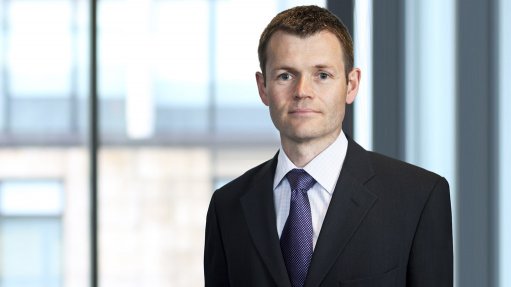 SEAN MULSHAW An increase in demand for passenger electric vehicles will be driven predominantly by the Asia-Pacific region – especially China – as well as Europe and North America
Global research and consultancy firm Wood Mackenzie estimates that nickel demand for electric vehicle (EV) batteries will increase from about 40 000 t in 2016 to 220 000 t in 2025, as demand for hybrid, plug-in and full EVs grows in developed countries.
When all other battery applications are included, such as consumer electronics and energy storage, this figure increases to an estimated 275 000 t of nickel demand in 2025 – accounting for about 12% of total global supply in that year.
Wood Mackenzie principal analyst Sean Mulshaw predicts that an increase in demand for passenger EVs from 2.4-million in 2016 to 14.2-million in 2025 will be driven predominantly by the Asia-Pacific region – especially China – as well as Europe and North America.
"In battery capacity terms, this is the equivalent of an increase from 26 GWh to 215 GWh over the same period, and most of the batteries generating this power will be based on nickel-containing chemistries."
Mulshaw explains that there are two basic types of EV batteries containing nickel: nickel metal hydride and lithium ion (Li-ion). By 2025, Li-ion batteries are expected to be the dominant product and, although not all Li-ion variants contain nickel, the nickel cobalt manganese (NCM) and nickel cobalt aluminium variants are expected to dominate the battery market.
Wood Mackenzie further predicts that the portion of nickel in the NCM batteries will increase, partly in response to the impact of high cobalt prices on battery cost, but also because of the improved energy density that nickel imparts. Both aspects will further add to the growth in nickel demand.
"Assuming the order of magnitude of these estimates is reasonable, the key question to then ask is: can we find enough nickel to feed such future demand?"
This question, Mulshaw notes, is complicated by the fact that not all nickel is suitable for battery cathode materials. Very pure nickel sulphate (NiSO4), which is made by dissolving nickel in sulphuric acid, is required for such applications and, ideally, the nickel raw material should be pure metal – Class 1 nickel – in powder, pellet or briquette form. "This discounts about half of global nickel production, with only about 40% of the remaining half comprising briquettes, powder, pellets or chemicals."
Mulshaw notes that, globally, there has been significant growth in the production of NiSO4, particularly in China and South-East Asia, to feed the expanding EV market. In addition, there are several options open to battery makers from existing nickel supply and stocks that would ensure their access to the required nickel units.
However, he points out that this will not solve the problem of deficits in the wider nickel market, especially if nickel is side-tracked to the battery supply chain and away from existing consumers in other sectors, such as the stainless steel industry.
"The outlook for nickel is, thus, one of deepening deficits, falling stocks and rising prices, with the anticipated expansion in EV sales likely to exacerbate the predicted shortage in nickel until 2025."
Although Africa is not a major contributor to global nickel production, key producers on the continent include the Nkomati mine, in South Africa – a 50:50 joint venture between diversified miner African Rainbow Minerals and Russia's Norlisk Nickel – and the Ambatovy mine, in Madagascar – owned by Canada's Sherritt International, Japan's Sumitomo and South Korea's Korea Resources. Nickel mines are also operated in Zimbabwe by Africa-focused Asa Resources Group and platinum-group metals mining companies in the country's Great Dyke.