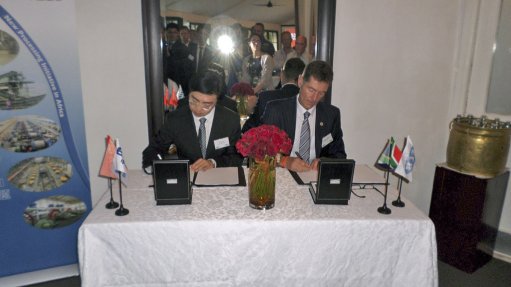 MAKING IT OFFICIAL ELB CE Dr Stephen Meijers and ENFI VP Wei Jiaming signing partnership agreement to formalise companies' long standing working relationship
South African engineered solutions provider ELB Engineering Services and Chinese engineering company ENFI Engineering Corporation have signed a strategic partnership agreement to tackle minerals and metals processing projects and associated infrastructure projects in sub-Saharan Africa.
At a private function in Cape Town last month, ELB and ENFI explained that they had worked together for many years and that the formalisation of the companies' existing, long-standing relationship sought to combine the best in execution capability and process design for the full spectrum of mineral processing plants in the region.

ELB CE Dr Stephen Meijers stated that this partnership agreement was a "landmark development", at a time when the mining sector was undergoing disruption as it addressed the need for innovation and world-class competence.

"The partnership enables us to extend our current capabilities and offerings deep into the minerals and metals processing sector, while further enhancing ELB's infrastructure and power capability," he highlighted.

ENFI VP Wei Jiaming said that, although the company had previously done business in Africa, this partnership would allow ENFI a "greater execution capability" in undertaking business activities on the continent.
Meijers pointed out that the market was in need of new technology, new ideas and a high level of competence to deliver world-class solutions.
"Therefore, given the extensive African footprint that ELB has and the cutting- edge technology developed by ENFI, both companies believe that we offer a unique business solution for the African market," he concluded.