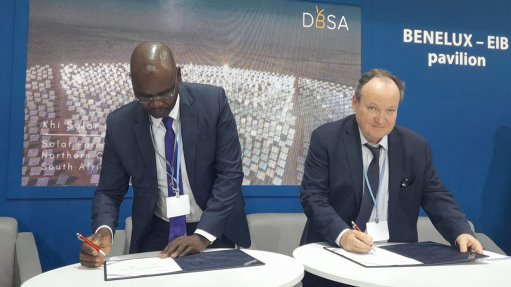 DBSA CEO Patrick Dlamini and EIB VP Ambroise Fayolle at the signing ceremony in Egypt
The European Investment Bank (EIB) has extended a €200-million line of credit to the Development Bank of Southern Africa (DBSA) to support the delivery of 1 200 MW of distributed renewables generation by private investors.
The financing package, which is the largest-ever extended by the EIB to South Africa, was signed on Friday by EIB VP Ambroise Fayolle and DBSA CEO Patrick Dlamini on the side-lines of COP27 in Sharm El Sheikh, Egypt.
The funding will reportedly unlock €400-million, or R7.2-billion, of new private renewables projects across South Africa and contribute to the Embedded Generation Investment Programme (EGIP), which is co-financed by the Green Climate Fund (€100-million) and the DBSA (€100-million).
The terms of the funding were not disclosed.
DBSA's EGIP supports the development and upscaling of solar photovoltaic and wind embedded generation projects, developed by independent power producers.
The market has gained momentum following reforms allowing for projects below 100 MW to proceed without a licence and the South African government is in the process of updating the regulations further so as to eliminate the cap entirely as part of a series of initiatives unveiled on July 25 to tackle intensifying loadshedding.
Besides adding 1200 MW of distributed generating capacity the projects will avoid 3.6-million tonnes of carbon emissions once operational.
Speaking at the signing ceremony, Dlamini said the bank had a clear goal to increase investment in renewable energy, improve energy security and advance the country's just energy transition.
"This new investment from the EIB in our Embedded Generation Investment Programme is an important contribution to South Africa's resilient and sustainable growth," Dlamini said, adding that it would complement the Just Energy Transition Partnership between South Africa and several developed countries as well as the European Union.
Confirming the package to be the largest-ever EIB investment in South Africa, Fayolle highlighted that it followed on from the bank's past support for the DBSA, comprising 11 projects since 1995, including support for renewable energy and climate adaptation projects.
"EIB Global is pleased to build on three decades of partnership with DBSA to boost renewable energy generation which will contribute to energy security and a just transition in South Africa," he said.
The financing would be available for solar photovoltaic and onshore wind energy generation, as well as potentially for energy efficiency projects promoted by the private sector.