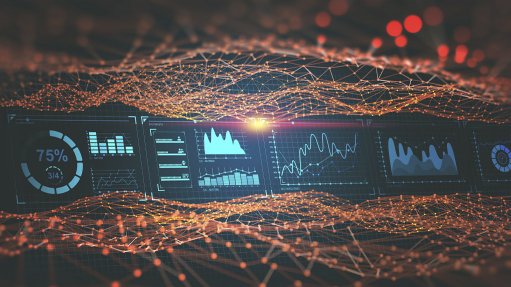 FUTURE IS NOW Machinery equipped with sensors and data analytics software can collect and analyse data to identify patterns and trends. While the machines may not be making decisions or taking actions, they still perform tasks requiring a level of intelligence and analysis
Photo by: Adobe
The recent hype around artificial intelligence (AI), spurred by millions rushing to explore AI chatbot ChatGPT and AI image generator DALL-E, has led to renewed interest and thought about the use of AI in the workplace.
AI-enabled technologies have become increasingly common in numerous industries, including mining, despite the industry being perceived as a slow adopter.
EY Africa AI and Advanced Analytics leader Kavi Pather defines AI as any system or machine that can perform tasks that typically require human intelligence, such as learning, problem-solving, decision- making and natural language processing.
"For example, machinery equipped with sensors and data analytics software can collect and analyse data to identify patterns and trends, monitor equipment health, and provide alerts for operators when maintenance is required. While the machines may not be making decisions or taking actions, they still perform tasks requiring a level of intelligence and analysis."
He adds that, given the relative newness of the technologies, and that most companies are still in the early stages of implementation, the vast majority of existing mining-related AI is currently geared towards automating processes, collecting data, and producing datasets for human interpretation.
The value of the data collected lies in its ability to inform decision-making and drive improvement. The insights gained can be used to optimise processes, reduce costs, and improve safety, among other benefits.
"AI can optimise workflow and equipment usage, increasing efficiency and productivity. It can reduce the risk of accidents and injuries by identifying hazards and improving equipment reliability. It can also provide insights that help improve decision-making."
However, while AI has the potential to change the face of mining, "there are still several limitations that need to be considered".
Pather notes that many operations are in remote areas with limited access to reliable data networks and may not have access to data. Further, even when available, the data may be of poor quality or improperly structured for analysis.
"In a South African context, data availability can be particularly challenging, given the historical fragmentation of the mining industry and the limited use of standardised data formats. There may also be cultural and organisational barriers to data sharing."
Mining activities also tend to result in dynamic environments with multiple unforeseen variables, which might affect the accuracy and effectiveness of AI models.
Additionally, existing equipment and sensor systems were not designed with AI in mind, consequently creating challenges in terms of integration. AI models also require significant human expertise and domain knowledge to develop and implement effectively – a challenge that the dearth of skilled workers in mining could exacerbate.
Pather notes that implementing AI solutions can be expensive, particularly for smaller mining companies, and the cost may be further aggravated by local economic uncertainty.
"Moreover, AI applications in mining may require new regulations and ethical considerations to ensure that they are safe, reliable and fair," Pather notes.
Cause for Enlightened Thinking?
Mining and prospecting activities are governed by an "elaborate legislative framework", with the primary South African legislation being the Mineral and Petroleum Resources Development Act (MPRDA) and the Mine Health and Safety Act (MHSA).
Law firm Werksmans Attorneys Mining and Resources Practice director Athi Jara explains that, for example, Section 5A of the MPRDA prohibits the undertaking of prospecting and mining operations without a prospecting or mining right. "We have seen AI being incorporated in data analysis during prospecting. These prospecting activities, while noninvasive, still require a permit."
Further, drones and other AI-enabled technologies may not be used without the necessary consent, licences and permits, such as compliance with the Civil Aviation Act and specific environmental management Acts.
Additionally, employers are required, in terms of the MHSA, to take all reasonable steps to ensure the health and safety of employees.
"To the extent that a risk assessment conducted in accordance with the MHSA reveals a safety risk that could be mitigated using AI, then, in our view, this solution should be implemented," says Jara.
Werksmans Employment Practice director Kerry Fredericks elaborates, noting that, should such an assessment identify, for example, a high risk of employees potentially going missing underground, or the need to urgently track and locate employees to ensure their safety, then, "from a labour law perspective, this points to appropriate and reasonable monitoring".
However, considering modern monitoring and tracking technologies are capable of gathering and analysing data associated with employees' personhood, "careful consideration should be given as to how this is implemented".
Fredericks cites the Protection of Personal Information Act, which specifically requires that companies act in a transparent manner when processing personal information.
"The basic definition of privacy is having the power to seclude oneself, or information about oneself, to limit the influence that others can have on our behaviour. Therefore, employees that are subjected to AI monitoring and tracking technologies should be made aware that these technologies are being deployed, when and for what purpose," says Werksmans Regulatory Practice head Ahmore Burger-Smidt.
Fredericks adds that it is not necessary to obtain consent to monitor and/or track an employee: "The roll-out of AI technologies that gather and analyse data related to an employee, and the processing of this information, can be justified as being necessary for purposes of pursuing the legitimate interest of a company."
However, company policies should, ideally, clearly stipulate the use of AI technologies that could impact on an employee and must limit any impact on privacy as much as possible. Further, the need for monitoring should be directly linked to the specific functions of an employee, says Burger-Smidt.
She comments that the trade-off between improved efficiency and safety and the loss of worker autonomy and privacy – for workers and potentially surrounding communities – must be considered as AI-enabled tools become increasingly commonplace.
Moreover, if surveillance and monitoring tools are employed for environmental-impact monitoring, prospecting, worker safety or the securing of site perimeters, "there is a significant potential for these tools to be used in ways that may defy ethical principles or community expectations".
Burger-Smidt suggests that these surveillance systems be designed and implemented with privacy and human rights-preserving parameters in mind.
Consequently, mining companies should adopt and build AI solutions that follow leading policy guidelines and are explainable, transparent and fair.
When evaluating the AI solution, they should understand the origin, attributes and quality of the data used to train the AI models to avoid biases.
Jara reminds mine owners that the legal burden of compliance with the provisions of the MHSA, the MPRDA and other legislation rests with the right holder. Therefore, while AI may be used for prospecting and mining activities, the actions and decisions that result from its use are at the discretion of the right holder and, therefore, the holder bears the ultimate legal responsibility.
New Age of Discovery?
The use of AI-enabled technologies in exploration is becoming common practice. While most mining companies might employ AI tools to improve aspects of their exploration activities, critical-minerals-focused explorer KoBold Metal's AI solution underpins every exploration activity it undertakes.
KoBold cofounder and president Josh Goldman says that the company's technology is used to guide its exploration decisions, and those of its partners, which include the likes of mining majors Rio Tinto and BHP.
"The decisions we're trying to make are the same as every exploration company: Where do we explore? What do we invest in? What type of data do we collect? And, based on that, where do we drill? The purpose of our technology is to make better decisions at every stage of the exploration process."
Goldman notes that KoBold's TerraShedSM platform aggregates and structures decades' worth of data, while its Machine Prospector's library of predictive models uses the TerraShedSM database to help guide exploration decisions.
"We collect vast amounts of unstructured data, which includes handwritten and other documents with maps, figures and tables. We load this information into the cloud and run optical character recognition and other language processing tools before indexing all that data and quantifying the uncertainty in the key attributes of our drill targets."
He cites KoBold's implementing "so-called probabilistic geophysical inversions" into its software stack and using it to guide exploration decisions. "We've published a paper, with our collaborators at Stanford, on a technique called Efficacy of Information, and we use that technique to gain insights from geoscientific data."
KoBold's data system then stitches everything together, using both proprietary and third-party tools, to make the probabilistic predictions much more effective.
The point is to progress from exploration to commercial production in a manner that is faster and more successful.
"So, for example, for one of our Canadian projects, we made predictions on the types of rocks that would be present at the surface. After conducting an extensive sampling campaign, we evaluated our predictions against the best conventional geological map available. We found that we had reduced both the false negative and false positive predictions by 80%.
"Then, on a first drilling campaign on the project, we found very high-quality nickel mineralisation in eight out of ten greenfield drills, where we would have expected one or two, based on previous campaigns. We'll be doing a follow-up drilling campaign on that project this year," Goldman elaborates.
KoBold, which last month secured a majority stake in the Mingomba project, in Zambia, is currently conducting an "aggressive drilling campaign" with the aim of producing a feasibility study in the near future. Mingomba is to be a testament to the success of KoBold's solution.
While there are challenges to implementing AI solutions, Pather notes that the potential benefits are significant, especially in the South African context, where mining is crucial to the economy and sociopolitical landscape.
"However, AI is not a silver bullet to all of the industry's woes. Careful consideration of the current limitations, as well as its potential benefits and risks, is essential to ensuring responsible and effective deployment," he concludes.