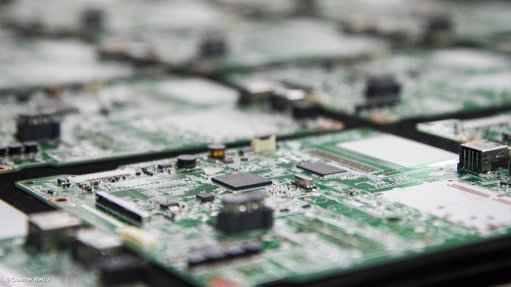 E-SCRAP Valuable metal can be found in in scrap such as circuit boards
Photo by: Duane Daws
Japanese materials producer Mitsubishi Materials Corporation has established MM Metal Recycling at Moerdijk, Noord-Brabant, in the Netherlands, to expand the collection of electronic scrap, or e-scrap, from the European region.
The original starting point for Mitsubishi Materials was as the mining business of Tsukumo Shokai, the roots of the Mitsubishi Group.
Mitsubishi notes that for nearly 140 years, the company has grown, developing its activities along with the modernisation of Japan. Mitsubishi Materials joins the companies of the Mitsubishi Group in contributing to the creation of a comfortable global community in the twenty-first century.
MM Metal Recycling will build a centre for receiving, inspecting and sampling e-scrap – planned for completion in 2017 – and other operations by investing about ¥4-billion. Mitsubishi Materials notes that Europe is one of the largest sources of e-scrap.
Mitsubishi Materials points out that e-scrap pertains to scrap containing valuable metals, typical examples of which are circuit boards of used appliances and electronic equipment.
MM Metal Recycling was established as a joint venture, in which Mitsubishi Materials has a 90% equity stake and Japan-based global trading company Hanwa has a 10% equity stake.
Operations from reception to sampling of e-scrap will be undertaken at the new centre, which will significantly shorten the period for valuation of e-scrap and enable MM Metal Recycling to respond to customer needs for speedy results of valuation.
Taking advantage of the Mitsubishi process for continuous copper smelting, a unique technology for smelting metals with the lowest environmental impact in the industry, Mitsu­bishi Materials notes that it has been promoting the expansion of e-scrap receiving and proces­sing capacity over the last several years.
As a result of the completion of the facility expansion at the Naoshima smelter and refinery, located in the middle of the Seto Inland Sea National Park, in April, the combined e-scrap receiving and processing capacity of smelter and refinery and copper smelter Onahama Smelting and Refining, a subsidiary of Mitsubishi Materials, is now about 140 000 t/y – an increase of about 30 000 t on the previous capacity – ranking it top in the world.
Simultaneously expanding e-scrap receiving and processing capacity, Mitsubishi Materials has also focused its efforts on collecting e-scrap from overseas. In July 2014, it established a department for e-scrap recycling within Mitsubishi Materials USA Corporation to strengthen its e-scrap collection system in the US.
E-scrap collected overseas will be transported to Japan, where valuable metals are recovered and recycled at Mitsubishi Materials' smelter and refinery.
The company explains that, following Mitsubishi Materials' corporate philosophy of "for people, society and the earth", it aims to become the world's leading business group committed to supporting recycling-orientated society through materials innovation, with use of its "unique and distinctive" technologies.