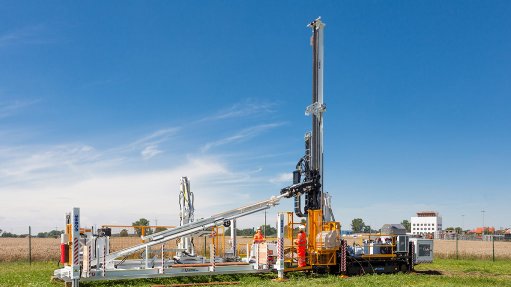 SHOWCASE Two new products in the Boart Longyear drilling portfolio have been introduced to the African market
Mine exploration and drilling innovation service provider Boart Longyear has introduced its LF160 surface coring drill rig and FL262 Freedom loader onto the African market.
The LF160 and FL262 were available for viewing at an official presentation held at the company's Robertville site in Johannesburg, South Africa, in November.
About 60 people attended the event including drilling contractors, mine house representatives, geologists, safety officers, consultants, distributors and members of the press.
"It was exciting to see so many of our customers participate in this event and witness up close a demonstration of our equipment's hands-free rod handling capabilities," says Boart Longyear Africa sales GM Andre van Heerden. "The guests were genuinely impressed with Boart Longyear's ongoing investment and progress on innovation."
The FL262 Freedom loader is an innovative rod loading system that requires no intervention from the driller's assistant to trip and align rods or connect to the top drive head. When combined with a surface coring drill rig like Boart Longyear's LF160 drill rig, more productivity and safety advantages are gained from the mechanised systems. The operator can monitor the wireline spooling from a control panel, and avoid tangling of wire rope typically experienced while lowering the overshot.
The LF160 rig and loader combination offers more control and oversight which means less interruption and a more efficient operation. The loader's hands-free rod handling and remote controls allow the driller's assistant to work outside the area of moving equipment. This greatly reduces the risk of hand and back injuries from handling rods. The loader can cycle 6-m rods in the same amount of time as a manual cycle, meaning enhanced safety is achieved without compromising productivity.
Ideal for contractors who want to target sophisticated surface drilling exploration contracts, the LF160 rig is CE certified according to the latest EN 16228 safety standards. Contractors can be assured of the freedom to bid on contracts that stipulate these exacting requirements, according to the company.
This first unit arriving in Africa has already been sold to drilling contractors Remote Drilling Services and is being deployed to a mine site in Botswana. Also, after being launched globally in 2016, this rig and loader combination is already being successfully used in North and South America, Australia and Turkey.
Boart Longyear also highlighted the LF160 surface coring drill rig and FL262 Freedom loader, along with other products in its portfolio at the yearly Prospectors and Developers Association of Canada convention, held at the Toronto Convention Centre, in Canada, earlier this month.