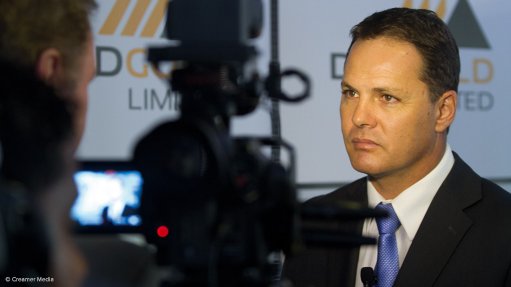 DRDGold CEO Niël Pretorius
Photo by: Duane Daws
JOHANNESBURG (miningweekly.com) – Dump retreatment company DRDGold on Tuesday announced a sixfold dividend increase for the year to June 30.
The final dividend of 12c a share took the total declared dividend for this financial year to 62c a share, which is more than six times the 10c a share of last year.
The 25% increase in free cash flow to R308.7-million facilitated the total dividend declaration of close to R261-million as well as the repayment of liabilities.
Volume throughput increased by 5% but yield was 9% lower, resulting in a 4% drop in gold production to 143 457 oz.
Revenue rose by 16%, however, reflecting a 21% increase in the average rand gold price received to R546 142/kg, and although cash operating unit costs were up 20%, operating profit was 13% higher at R434.8-million.
The operating cost margin of 18% and all-in sustaining cost margin of 8% remained virtually unchanged.
Headline earnings of the Johannesburg- and New York-listed gold company rose 39% to R53.8-million, equating to 28%-higher earnings a share of 12.7c a share.
DRDGold CEO Niël Pretorius said the company's monetary and intellectual investment in plant and process were showing clear and measurable results, reflected in increased throughput and improved extraction efficiency at the company's Ergo plant on the East Rand.
"Both are important achievements in helping to address the diminishing grade of our reserves," he added.
Pretorius views the progress made in securing additional tailings deposition capacity for the Ergo plant at the Brakpan/Withok Tailings Complex as a major development in leveraging Ergo's increased throughput capacity in the future.
With tailings capacity locked in, the company is well placed to optimise its 11.8-million-ounce resource and acquire additional resources within the greater Johannesburg area.