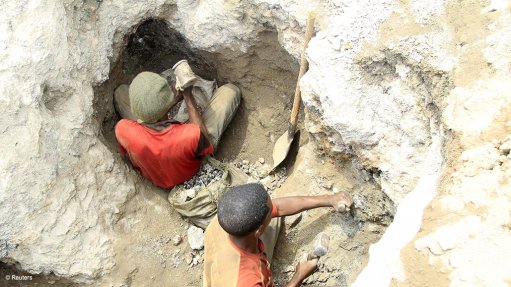 DRC GOVERNMENT MAKES PROGRESS Despite challenges, the DRC government has been making positive changes regarding the ASM industry
The Democratic Republic of the Congo (DRC) government faces challenges regarding the artisanal and small-scale mining (ASM) industry but has begun to create positive changes in the industry, says law firm Beech Veltman CEO Warren Beech.
"The DRC government has made good strides in transforming and regularising ASM, which includes the establishment of the State buyer, the Enteprise Générale du Cobalt (EGC), and the conclusion of the offtake and financing agreement with commodity company Trafigura."
Beech adds that the ASM industry in the DRC accounts for about 30% of the country's cobalt extraction. The industry has become prevalent, owing to socioeconomic factors, such as extreme poverty and the historical shortcomings of the State in effectively distributing revenue to local communities.
Those involved in artisanal mining practices – often women and children – generally work in unsafe, unhealthy and exploitative environments, and tend to be disproportionately affected by the consequences of poverty and crime.
"The only way to mitigate, and eventually eradicate the exploitation that comes from ASM, is to regularise ASM through a measured programme, which has the buy-in from artisanal miners.
However, the government faces challenges in reducing and reforming ASM practices because ASM is a major contributor to mineral extraction in the DRC, he notes.
The DRC government has started buying cobalt from ASM miners through the EGC, which buys, processes and sells cobalt to companies, such as Trafigura, and is starting to implement strategies to improve the ASM industry, which Beech expects will contribute to improved health, safety and working environments in the artisanal sector.
While the number of initiatives in place to tackle ASM has risen exponentially, he says the country still has more ground to cover.
Further, he says that, despite President Felix Tshisekedi's efforts, the ASM industry is expected to continue being affected by socio-economic factors which lead to exploitation.
Beech adds that Tshisekedi's initiatives require time to implement, as some ASM miners refuse to comply because of factors such as a lack of financial incentives.
"The EGC process focuses on not only buying cobalt but also setting up structures, such as logistics, and ultimately, the DRC government will benefit. The EGC process is in its infancy, but should improve over time."
Despite health and safety measures adopted by the EGC, implementation is challenging, as these regulations impact on ASM miners' ability to extract as much cobalt as they can, causing ASM miners to flout the regulations.
He concludes that ASM will remain a high-risk activity in the DRC until government can successfully implement its initiatives.