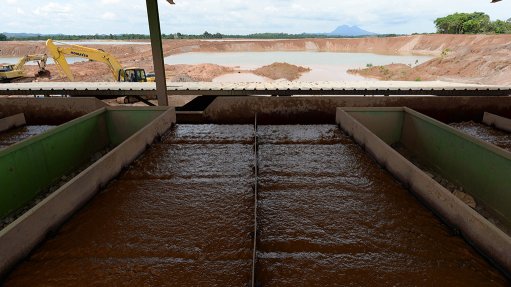 COOLED SLURRY The cooling towers excel at cooling slurry with high levels of solids
Photo by: Bloomberg
Specialist water cooling company Industrial Water Cooling's (IWC's) forced-draft counterflow cooling towers, which have been designed and manufactured for the specific pressure-leach process used in copper mining, excel at cooling slurry with high levels of suspended solids, extreme temperatures and highly aggressive chemical compositions.
IWC's forced draft cooling tower is typically octagonal in shape and comprises several field-assembled, dual-composite glass-reinforced plastic panels, crafted for safe and sustainable performance. These structural panels have polypropylene liners, with the structural laminate made from high-quality vinyl ester resin. The panels also have a conductive carbon tissue that acts as a corrosion barrier.
This carbon tissue also preforms non-destructive spark testing of the internal polypropylene panel seal welds to maintain the integrity of the weld during the life of a slurry cooling tower. The cooling tower comes with a rubber-lined stainless steel basin, which is designed to prevent clogging.
Moreover, IWC's cooling towers are installed with a fibreglass fan reinforced with vinyl ester resin, making them suitable for hostile industrial environments. The forced draft fans have a 16° blade angle and feature a recorded operational efficiency of 97.85%.
The slurry cooling towers are also fitted with corrosion-resistant Grade 316 stainless steel distribution pipes, distribution pipe sprayers and drift eliminator spray pipes to ensure durability and thereby reduced downtime for maintenance.
Increasing Performance, Eliminating Health Risks
The segmented, modular design of IWC's slurry cooling towers allows for easy assembly and cost-effective maintenance. The forced draft fans and removable spray lances can be conveniently accessed from an external walkway.
The towers have no fill, which eliminates the possibility of fouling and corrosion within the cooling tower, as well as the risk of growing microbes, such as the deadly Legionella bacteria. Despite having no fill, the forced-draft counter flow slurry cooling towers have the perfect contact process between air and water, owing to the effective water break-up pattern afforded by pressure spray nozzles. This design feature allows for more efficient heat transfer in the cooling towers.
Another advantage of IWC's slurry cooling towers is that drift eliminators are assembled into easily removable pads and can be provided with an automatic cleaning-in-place system. Drift losses can be reduced to as low as 0,0002% of the recirculating solution flow rate.
IWC's slurry cooling towers are ideal cooling solutions for the copper mining industry. The robust design, easy assembly, low maintenance costs and guaranteed operational efficiency ensure extended service time of operational machinery.