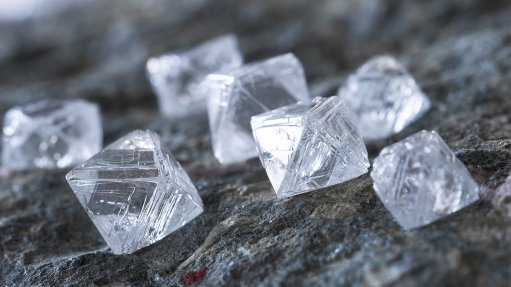 Photo by: Dominion Diamond Corp
VANCOUVER (miningweekly.com) – Canada's largest diamond producer Dominion Diamond Corp has reported a 21% decrease in diamond sales for the 2017 financial year ended January, as a fire at its flagship Ekati mine, in the Northwest Territories, and lower-value output weighed on the bottom line.
The Yellowknife-based producer, however, on Thursday stressed its improved outlook over the next three years, as expansion projects at both Ekati and the Diavik mines came on line, and the company continued to progress a strategic review that might result in the sale of the company.
Dominion said that there had been no further developments regarding a recently unveiled $1.1-billion unsolicited bid by Washington Companies. Dominion has subsequently formed a committee to review strategic alternatives, which could include selling the company, continuing its current development plan, or considering other options.
During the 2017 financial year, Dominion saw increased low-value rough diamond output at both mines, which resulted in an average price a carat sold of $87, compared with $177 in the 2016 financial year.
Sales fell to $570.9-million from the previous year's $720.6-million, further impacted on by rough prices falling 7% in the fourth quarter, reflecting the slowdown in demand following India's demonetisation policy in November, Dominion said.
The miner reported an operating loss of $56.6-million, compared with a profit of $8-million the previous year. Its net loss narrowed to $12.8-million, from a loss of $38.8-million in 2016, impacted by a $84.8-million gain from the sale of its Toronto office building and an income tax recovery of $14.4-million.
"The much-anticipated ramp-up of high value production at Ekati, together with steady performance at Diavik, is driving significant growth in gross margins and adjusted Ebitda [earnings before interest, taxes, depreciation and amortisation]," chairperson Jim Gowans noted.
Dominion said that it had held back a significant volume of lower-value diamonds in the fourth quarter owing to the weaker market conditions, but that it expected to sell more diamonds from inventory as market conditions in India steadily improved.
The market ended the year on a positive note despite the divergence between the resilient market for larger, higher-quality goods and the more challenging situation for smaller, relatively cheaper goods, Dominion reported. The Christmas season in the US failed to meet market expectations, but this was balanced out by renewed retail activity over the Chinese New Year, resulting in an expected rise in polished demand from China in the first quarter of 2017.
Dominion forecast sales to rise to between $875-million and $975-million in the 2018 financial year, based on higher-value ore processed from Ekati's Misery Main and Koala underground pipes in the past few months. Ebitda is forecast to increase to between $475-million and $560-million, up from $182.2-million in 2017.
The company forecast a "robust" outlook for sales and adjusted Ebitda through 2018, 2019 and 2020, boosted by its planned ramp-up of production at Ekati and Diavik. Total output is expected to rise from 7.8-million carats in 2017, to between 9.1-million and 10-million carats in 2018, 9.2-million to 10.1-million carats in 2019, and 7.6-million to 8.4-million in 2020.
Dominion has recently filed a technical report for Diavik, extending the mine's life by two years to 2025. Dominion said it had raised its exploration budget to $9-million for the current year, up from $7-million in the 2017 financial year.