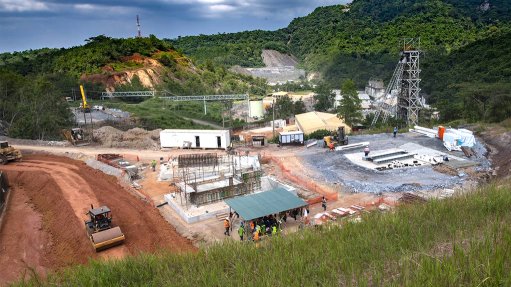 AngloGold's Obuasi mine, in Ghana, which achieved special mention.
JOHANNESBURG (miningweekly.com) – Everything must be done to fight inflation, says AngloGold Ashanti CEO Alberto Calderon, a former International Monetary Fund luminary, who has reported vigilant cost control in a year dominated by what the Johannesburg- and New York-listed company described as the highest inflation rates in more than 40 years.
"Inflation complicates life enormously for everybody," Calderon said in response to Scotiabank analyst Tanya Jakusconek during question time.
Higher-grade ore mined by AngloGold Ashanti in the third quarter of last year should have meant more gold at unchanged cost – more bang for the same buck, as it were. (Also watch attached Creamer Media video.)
But abnormally high level of inflation knocked back the potential benefits of 17% higher underground grades and 21% higher opencast grades.
By continuing to shine the brightest of bright lights on inflation, AngloGold has managed to evade its full impact.
On the complexity of inflation particularly to mines, Calderon said: "If you look at the cash costs per ounce projected in 2021 and 2023, and you assume that there was no inflation, AngloGold Ashanti would have been at around $900/oz in 2023, which would be quite competitive.
"In other words, in real terms, we have managed to decrease quite significantly. It's even more significant when it comes to all-in sustaining cost (AISC). In this metric, between 2021 and 2022, we decreased by 10% in real terms and we expect to decrease by another 2% between 2022 and 2023, taking the reductions in the AISC in real terms to 12% during these two years," he added.
The higher grade and increased production did manage to stave off inflation's full potential impact, with AngloGold's total cash costs per ounce at a 6%-higher $1 024/oz for 2022 compared with $963/oz for 2021. The increase in AISC was limited to only 2% year-on-year to $1 383/oz in 2022, from $1 355/oz in 2021.
He described the high inflation of Argentina, where AngloGold Ashanti operates the Cerro Vanguardia gold and silver mine in the Santa Cruz province, as being more the exception than the rule.
The biggest driver is the combined $120/oz inflation cost of close to $40/oz for diesel.
"So, the good news is that if we continue to see the trend that we are seeing we should at least start coming down to earth, and that should help us," Calderon said in response to Mining Weekly.
"There is generalised wage inflation and that's probably the main driving force this year and that's everywhere, that's in Australia, the Americas, across the board.
"Last year we saw more diesel/commodities inflation and this year I would think wages is the biggest, quite spread out across the world.
"We have to do everything to fight inflation. In the end, inflation is all over. What we can do is really try to work on countering that inflation as much as we can and we have. With AISC we're in the right direction. More efficiency and then hope that commodities like explosives, ammonia, gas, diesel go back to where they were in 2021," said Calderon.
QUICKEST GROWTH
On the geography where AngloGold Ashanti is growing the quickest, Calderon said in response to Mining Weekly: "Interestingly enough, our quickest growth is in the US, in Nevada, and we're particularly happy with Obuasi, in Ghana. Obuasi this year will hit a production record for such a magnificent orebody and it's good news for us and Ghana.
"But in pure growth terms, it's Nevada, where it's quite startling that we can get into production so quickly and I think the exploration team did a fabulous job in opening the door and that was followed by some well-timed, relatively medium-sized and small-sized acquisitions, which have given us a footing that is going to be fundamental for the next decade.
"We'll talk much more about that this year. As we get more information and consolidate more information, we will be able to really get facts on this being very important growth for AngloGold."
A $150-million agreement has been concluded with Coeur Mining to acquire its Coeur Sterling subsidiary, which owns properties next to AngloGold's projects in the Beatty district of Nevada.
The properties include Coeur's C-Horst, SNA, Secret Pass and Daisy operations, as well as the decommissioned Sterling mine and all tenements that surround the properties.
The acquisition is seen as enhancing the value proposition the group is building in the Beatty district and consolidating its ownership position in what is a promising new gold district.
AngloGold aims to produce 300 000 oz/y of gold from its properties in the Beatty district by the end of the decade.
AngloGold is focused on operational performance and the recovery of cost competitiveness as it implements its full asset potential review programme, on which it will report at three-monthly intervals.
AngloGold's tailings storage facilities in Brazil, where a major tailings tragedy occurred a few years ago, are in the process of being converted to dry-stacking operations to comply with new legal requirements relating to tailings in Brazil.
On the company investing close to $42/oz on dry-stacking, Calderon commented: "We are putting a lot of money into it, but safety comes first, before anything."