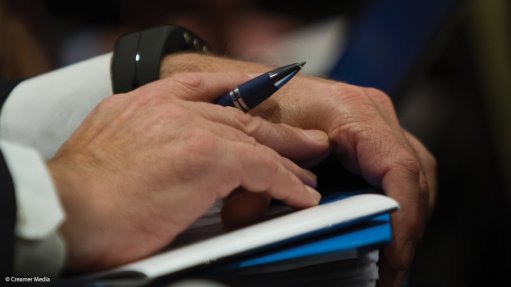 Photo by: Duane Daws
JOHANNESBURG (miningweekly.com) – Boardroom confidence is expected to continue this year, after record high mergers and acquisition (M&A) activity in 2015; however, the downward spiral of commodity prices may force distressed mining assets onto the market.
Unpacking expectations for the year ahead, international law firm Allen & Overy partner Dominic Morris said mining companies had been able to hold their own in a volatile environment, with limited serious M&A activity occurring in the sector over the last year, barring those raising cash to shore up balance sheets.
However, with commodity prices plunging below the threshold that had allowed mining companies to "limp along" until now, "distress" would ultimately drive new deals as companies moved to shed capital expenditure drains and raise cash in a troubled environment.
Companies had remained focused on reducing both capital and operating costs, conserving cash and "resisting doing deals"; however, the question for mining groups was how long they could "limp on" before a spate of distressed assets were put up for sale.
Weaker global growth expectations, softening demand, the strength of the dollar and continued uncertainty surrounding metal demand in China, had maintained pressure on base metals prices, with Moody's Investor Services previously warning of an impending "deeper and longer" downturn in 2016.
Moody's had put the 2016 base price of gold at $1 100/oz, metallurgical coal at $80/t, thermal coal at $55/t, aluminium at $0.70/lb, copper at $2.15/lb, nickel at $3.80/lb, iron-ore at $40/t and zinc at $0.75/lb.
Companies were already signalling distress, with the mining sector exiting a "very gloomy year" by deteriorating further.
The slump had hit Africa particularly hard, seeing as the continent was made up of mostly commodities-based economies, while South Africa had been further impacted by government intervention, continued labour problems and unreliable power supply.